A few days ago, the Rolling Stones released a remastered version of Exile On Main Street. I'm supposed to be excited about this, what with my lifelong membership in the "Exile Might Be The Greatest Album Ever" fan club. Meh. Financially, it makes perfect sense. I'm actually surprised its taken this long for the band to leach Exile of its remaining nutrients. But, why is remastering a selling point? The album's value correlates directly to its swampy choogle and fuckedupness.
Albums like Exile and Tonight's The Night don't necessarily need remastering. They just need to be available. In that sense, I like that it's back in the spotlight, gaining a new generation of fans. It deserves it. But remastering? Please. It's like re-releasing Citizen Kane in 3-D or running "West End Blues" and "Hellhound On My Trail" through ProTools. "Yeah bro, we cleaned up the Robert Johnson, so it isn't all hellhoundonmytraily. And we added a little freestyle rap over Louis' intro. We felt it was missing something." If you want Exile, go to Amazon and buy the cheapest used copy you can find, preferably on vinyl. If you don't like that version, I don't wanna know if you like the cleaned-up version.
LOS ANGELES
"LA added a whole dimension to Exile's mixing and assembly. The sunlight, the drive to work, the way the girls look. LA's got a very strong set."
–Marshall Chess, LA Weekly
Michael Simmons has a good feature in last week's LA Weekly on an often overlooked aspect of Exile On Main Street. The basic tracks may have been recorded in southern France, but it was in Los Angeles that the album was mixed, overdubs added (and there were many), some songs were wholly remade ("Torn And Frayed," "Loving Cup"), and others were repurposed ("Rip this Joint", "Shake Your Hips", "Casino Boogie", "Happy", "Rocks Off", "Turd on the Run" and "Ventilator Blues"). Thus, despite the Nellcote mythology, Exile's legacy was as much a product of LA as it was France.
Rolling Stones – Torn And Frayed
Exile On Main Street
1972
Amazon
Mick Jagger – lead vocals
Keith Richards – acoustic guitar, electric guitar, harmony vocals
Mick Taylor – bass
Charlie Watts – drums
Al Perkins – pedal steel guitar
Nicky Hopkins – piano
Jim Price – organ
"Torn And Frayed" is a ramshackle country-rock classic probably written with Keith Richards in mind. The protagonist is a restless gypsy guitar player battling a drug habit … you do the math. While it might not be entirely fair to call Gram Parsons a "dressing room parasite," his influence looms large for both good and bad reasons. There's no question that GP's lonesome twang and love for classic country was a positive influence on Richards the musician. Hell, who doesn't want to get turned onto old George Jones songs? That's just common sense. But, both men spent much of their time together in the throes of drug addiction, which isn't nearly as interesting at it sounds. Within 18 months of Exile's release, Gram was dead from an accidental morphine overdose and Keith ceded much of his authority to Mick Jagger, whose work ethic saved the Stones, but transformed the pirate ship into a corporate discotheque. Thanks a lot, dope.
FLYING BURRITO BROTHERS
If there's a tangent to the Parsons-Richards friendship that's actually interesting — and not just middle class romanticism — it's pedal steel player, Al Perkins. He's the second best thing about "Torn And Frayed," after the Mick-and-Keith harmonies. Gram obviously agreed because it's Perkins' steel that keens up and down GP and Grievous Angel.
At the time of the "Torn And Frayed" sessions, Perkins was a member of two different bands, The Flying Burrito Brothers and Manassas, both of whom he joined at the behest of Gram's former bandmate (twice over), Chris Hillman. Like the Stones, these two bands spent 1972 releasing a sprawling vinyl document of American roots-rock: Last Of The Red Hot Burritos and Manassas.
And the connections deepen.
Flying Burrito Brothers – Christine's Tune (Devil In Disguise)
Last Of The Red Hot Burritos
1972
Discogs (Vinyl)
Chris Hillman – vocals, bass, mandolin *#
Rick Roberts – vocals, rhythm guitar
Al Perkins: pedal steel guitar #
Byron Berline – fiddle #&
Kenny Wertz – vocals, guitar, banjo &
Roger Bush – acoustic bass, vocal intro to "Dixie Breakdown" #&
Michael Clarke – drums *
* member of The Byrds
# member of Manassas
& member of Country Gazette
Flying Burrito Brothers – Dixie Breakdown
Last Of The Red Hot Burritos
1972
Same personnel as above
Discogs (Vinyl)
Flying Burrito Brothers – My Uncle
Last Of The Red Hot Burritos
1972
Same personnel as above
Discogs (Vinyl)
"I think the Flying Burrito Brothers with the right lineup and given more time could have been a strong influence, the Rick Roberts lineup. He was a very good singer and songwriter and Chris had songs to contribute. It might have been pretty interesting. That was, in my opinion, a real country-rock group."
–Al Perkins, in John Einarson's excellent Desperados: The Roots of Country Rock, p. 220

"During our live shows we would do a flat bluegrass section in the middle. Chris would play mandolin, Bernie (Leadon) would play banjo, and I'd play acoustic guitar, doing bluegrass stuff like 'I Am A Pilgrim.' When Bernie left, we brought in some really good bluegrass players (aka Country Gazette). Roger Bush had been with the Kentucky Colonels and Byron Berline was three-time national fiddle champion. That lasted about six months."
–Rick Roberts, Desperados: The Roots of Country Rock, p. 210

"We developed a great live act after all those years of being sloppy. The crowds would go crazy over (our) bluegrass set, and we'd do some hard rock and some country."
–Chris Hillman, Desperados: The Roots of Country Rock, p. 210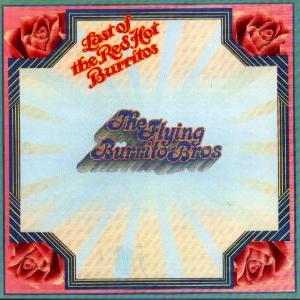 Listening to Last Of The Red Hot Burritos with fresh ears, I'm surprised it's not viewed more favorably. It moves seamlessly and credibly from full-tilt country-rock to bluegrass to rootsy blues-rock. Is it as transcendent as Gilded Palace Of Sin? Probably not. But, as the bookend to the original vision of the Parsons/Hillman Burritos, it should rightfully legitimize Chris Hillman as a bandleader and polygenre visionary equal to — and in some ways surpassing — Gram Parsons. That Red Hot is essentially ignored and Hillman often viewed as merely a GP sidekick is a gross historical injustice, hopefully rectified within Hillman's lifetime.
Incidentally, it was on the Burritos' Fall 1971 tour, amidst a four-night stand in Washington DC, that Roberts and Wertz stumbled into a coffeehouse called Clyde's. Performing was an unknown folksinger from Birmingham, Alabama, named Emmylou Harris. Within minutes, Hillman was called to bear witness. A few days later, in Baltimore, Gram followed suit. Suffice to say, lives changed.
Here are the Burritos at their 1971 peak:
Flying Burrito Brothers – Six Days On The Road (1971)
MANASSAS
"We were doing the live album, Last Of The Red Hot Burritos, and playing weekend gigs. Chris, Al Perkins, and I would fly down to Miami (Jerry Wexler's Criterion Studios) on Sunday night and stay there until Thursday, recording the first Manassas album with Stephen."
–Rick Roberts, Desperados: The Roots of Country Rock, p. 219

"About the third trip down there (Miami) they had a little impromptu meeting and Stephen said he'd like to start a band with us. Chris and I were both offered the job in Stephen's band."
–Al Perkins, in John Einarson's excellent Desperados: The Roots of Country Rock, p. 219
Manassas – Don't Look At My Shadow
Manassas
1972
Amazon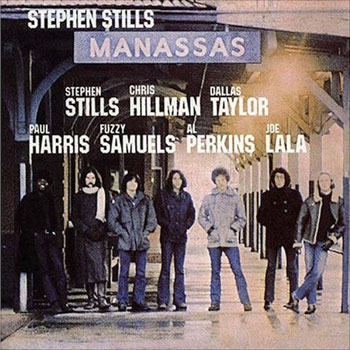 Stephen Stills – acoustic lead guitar, lead vocals
Chris Hillman – mandolin, harmony vocals
Al Perkins – pedal steel guitar, prob vocals
Byron Berline – fiddle
Paul Harris – piano
Roger Bush – acoustic bass
Dallas Taylor – drums
"Shadow" is great for several reasons, not the least of which is that it directly anticipates Jerry Reed's "Eastbound And Down". Chalk one up for the Snowman. The tune also blends two distinct regional sub-genres: western swing and southern California bluegrass. The former shouldn't be too surprising, what with Stills' Texas roots, and his acoustic leads are more akin to a dancehall swing band than they are a bluegrass swing band, which is basically what Manassas (in this incarnation) was. Parenthetically speaking, were he not a gajillionaire rock star, Stephen Stills would've made a great honky-tonk frontman.
Byron Berline's consistent presence ties up several loose ends. Like Hillman — let alone Clarence White, who is conspicuous by his absence — Berline effortlessly bridged rock, country, and bluegrass. He played with Bill Monroe, recorded with the Stones ("Country Honk"), Byrds ("Tulsa County Blue," "You All Look Alike," and "Green Apple Quick Step"), and Dillard & Clark (Through The Morning, Through The Night), and was a founding member of bluegrass supergroup, Country Gazette. Like Peter Rowan and Roland White, Berline was a California immigrant whose resume included a formative stint with Bill Monroe, and all three men serve as connective tissue connecting Nashvilles East and West. To wit:
Byron Berline (with California) & Bill Monroe – Gold Rush
That's Byron introducing the band and the Grand Old Man of bluegrass. "Gold Rush" is a bluegrass standard written by Monroe and Berline during Byron's brief stint as a Blue Grass Boy in 1967. According to this one guy on the googlenet — which I make a point to implicitly trust at all times — Roland White watched Monroe and Berline work out "Gold Rush" on tour. That actually makes sense because Roland joined the Blue Grass Boys in May 1967 and Berline left to join the army that September. At some point in those four months, why wouldn't that aggregation of talent come up with a timeless classic?