While researching The Jayhawks for my Lover Of The Bayou post, I discovered that Gary Louris produced The Sadies' 2007 album, New Seasons. How in the name of God did I not know this?!?! I'll tell you how. I downloaded the album from eMusic and it didn't come with liner notes. Is it really that difficult to include a PDF of the liners as a standard part of a download? Sheesh. Reason #347 why I prefer vinyl. Gimme an actual record along with a free mp3 download and you'll have me as a loyal customer forever. You hear that music industry??? Get on it.
I haven't written too much about The Sadies thus far, but not for lack of love. Led by brothers Travis Good (guitar, fiddle, vocals) and Dallas Good (guitar, vocals), and anchored by Sean Dean (upright bass) and Mike Belitsky (drums), Toronto's favorite sons have developed into the most complete, most versatile, most sublimely rooted rock 'n' roll band going. They effortlessly combine surf music with Byrds-y country-pop, early Pink Floyd psych, and touches of bluegrass, gospel, rockabilly, and punk, and it all works. They can play sidemen to Neko Case's torch songs or Andre Williams' dirty funk and it sounds like an organic extension of the same band. In 2006, they released In Concert Volume One, one of my favorite albums from this decade, and a no shit, I kid you not indie-roots version of The Last Waltz. In short, you cannot stop The Sadies, you can only hope to contain them.
To that end, I'm not sure how much was Louris and how much was the natural evolution of the band, but New Seasons was a breakthrough for The Sadies, at least from a studio perspective. As a live unit, they already had the mad skillz. But, I think the head 'Hawk was crucial in helping them flesh out their vocal arrangements and songwriting. Louris' work with Mark Olson, let alone his own affinity for The Byrds, helped the Brothers Good fully realize their inner McGuinn/Hillman. Furthermore, with Dallas' venture into B-Bender territory, they added full-on Clarence White flourishes that totally slay. In fact, I am officially going on record as saying The Sadies have now surpassed both The Jayhawks and Byrds in terms of the all-around game. Live, studio, versatility, balls, showmanship, you name it. The Sadies have no weaknesses … other than rarely playing Texas. OK, so that's a big weakness since I can't see them here in Austin. Damn Sadies.
A BAD DAY FOR STEEL PLAYERS
Here's an excerpt from Frank Goodman's kickass interview with Travis, conducted shortly after the Fall 2007 release of New Seasons. Available in full on puremusic.com, the conversation offers great insight into the choice of Gary Louris as producer and the adoption of the StringBender by Dallas. As a bonus, I'm including the song referenced, "Never Again." Such greatness.
Sadies – Never Again
New Seasons, 2007
Amazon
Pure Music: So, when it came time to do a new studio record, how did it come about, picking a producer, picking a studio. How did the process begin?
Travis Good: I guess it all began on that Jayhawks tour. That would be the beginning of it, and getting to know Gary Louris. He said shortly after that he wanted to work with us, producing some stuff. And we were quite flattered. It had been a while since we'd done a record, and this time we kind of all went off our separate ways before we went and started to try and get some ideas — not necessarily write whole songs, but just get a few ideas each, because we really wanted to get as much of Gary's influence as we could, too. We were saying beforehand that it would be kind of a waste to go in there with Gary and just do a bunch of surf songs.
[laughter]
TG: So I don't know if it was consciously or subconsciously, but we went into the direction that we thought we could use some help in, and I think that was kind of the singing and songwriting aspects of it.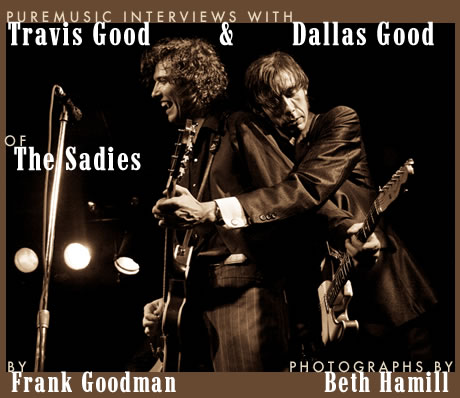 PM: So which of the brothers is playing StringBender on "Never Again"? Is that you?
TG: No, that's Dallas. He's got the B-Bender.
PM: Who made that for him?
TG: Well, he bought that one. But you know the story, those are made by Clarence White originally, right?
PM: Yeah. Boy, I love those StringBender guitars. The welcome stiffness of the banjo and the slinky rubbery quality of a good Bender, those two things just go so well together.
TG: Yeah, they do! For a while we had a steel guitar player, too, in the band. He kind of became obsolete when Dallas got that Bender.
[laughter]
TG: Yeah, we were kind of getting to the point where we were like, "Can you play this part on the steel?" [mimics twangy sounds of a B-Bender] He goes, "Yeah, I think I could probably do that." And we're like, "Ah, fuck it, we can just do it." That must have been a bad day for steel players when they went and invented that thing.