I recently finished Keith Richards' autobiography, Life (2010), and I don't know why, but I was surprised at the pathos, honesty, insight, and sense of history. The Rolling Stones have turned into a corporate-sponsored pirate ship, so I think I internalized my disappointment in what their legacy had become. I put off reading Life because I assumed I'd be reading justifications for Jovan sponsorships. The fact is, if you're a Stones fan, I'm pretty sure you're gonna love this book because it reminds you that whatever the Stones have evolved into, from 1964-72 they were first ballot Hall of Famers and from 1973-81 they may have been sub-standard relative to the previous decade, but they were still a first tier rock 'n' roll band.
I was originally going to publish this post based upon the references in Life. However, when I found this article in Q Magazine I knew I had the hook. What are Keith's favorite albums? As of July 2011, this dirty dozen of jazz, blues, early rock 'n' roll, country, R&B/soul, reggae, and whatever Warren Zevon is.
KEITH RICHARDS' RECORD COLLECTION
1. The Album That My Mum Introduced Me To
Billie Holiday – Lady Day (1954 compilation)
"I Must Have That Man"
Recorded January 25, 1937
Billie Holiday – vocal
Lester "Prez" Young – tenor sax
Benny Goodman – clarinet
Buck Clayton – trumpet
Teddy Wilson – piano
Freddie Green – guitar
Walter Page – double bass
Papa Jo Jones – drums
Solos: Prez (1:30-2:10), Goodman (2:11-2:32), Clayton + Goodman (New Orleans style, 2:33-2:51)
"I couldve gone for Ella Fitzgerald or Etta James, but I chose Billie. I really have to thank my mum. She was playing Billie on the radio whenever possible, which was not a lot because the BBC were not that hip [laughs]. But, there were certain hours in the late '40s and early '50s when they would play Billie, and her voice and the phrasing just stuck with me. You can listen to her now and she's still as vibrant and pertinent today as she was back then. That's what counts, whether you can go through the generations. Hopefully, the Stones will even get there in a little bit. But to me, it wouldn't matter when Billie did it or where she came from, she's now."
–Keef in Q Magazine, July 2011
As great as Billie is — and whose own heroin addiction preceded Keef's smack issues by a few decades — this is a pantheonic backup band. Goodman, of course, was a/the king of swing and Holiday's first recording session in November 1933 was fronting the BG Orchestra. Wilson was pianist in the Benny Goodman Trio and Quartet, but this track was actually cut under the auspices of the Teddy Wilson Orchestra. The Trio and Quartet were two of the earliest integrated musical units in mainstream American music (the Quartet also included black vibraphonist, Lionel Hampton). By the way, if your record collection is Goodman-deficient, I HIGHLY recommend this comp of the small combo sides, Avalon: The Small Bands, Vol. 2 (1937-1939).
Young and Clayton both came to fame as featured soloists in Count Basie's Orchestra, but Prez's legacy is bound up with Lady Day far more than it is Basie. This was their first recording session together, but they were tight for the next 14 years as co-conspirators in music and various extracurriculars. In an era when saxophonists and singers were celebrated for being honkers and shouters, Young and Holiday were cool as cucumbers in a bowl of hot sauce. Meanwhile, Green, Page, and Jones were famously known as "The All-American Rhythm Section" and arguably ground zero for the rock 'n' roll pocket. Though two generations removed, Charlie Watts and Bill Wyman were well aware of the Basie sidemen:
"Great bass sound, ennit?" A portable phonograph in a corner of the room was playing 1930s records by the Kansas City Six.

"Yeah, Walter Page, really good," Charlie said.

"Never get a sound like that with an electric bass," said Wyman, a bass player whose hands were too small to play the acoustic bass.

"The electric bass is more flexible," I said trying to help divert the conversation. "You can do more things with it."
"You can't do THAT," Wyman said. "Can you, Charlie?"

"Never," Charlie said, as Page's bass and Jo Jones' brushes blended with Freddie Green's guitar, their rhythm steady as a healthy heartbeat.
—Stanley Booth, The True Adventures Of The Rolling Stones, 1984, p. 8
2. The Album That Brian Jones Got Me Hooked On
Robert Johnson, King Of The Delta Blues Singers (1961 compilation)
"If I Had Possession Over Judgment Day"
Recorded November 27, 1936
Robert Johnson – vocal, guitar
"The Stones weren't formed yet, we were just a loose bunch of musicians eyeing each other [laughs]. When Brian pulled out that Robert Johnson record, I immediately said to myself, 'I want to work with Brian.' He had come up with a record that I had never heard because Robert was still so obscure at the time. The subject matter of his songs took you into another area of possibilities. That you can write a song about anything. You don't have to confine it to the popular norms and that was a turn-on with Robert. He almost disappeared, which is amazing for a talent like that. But, I guess he's like a shooting star, so briefly on the horizon."
–Keef in Q Magazine, July 2011
"(Living with Brian Jones) is where I first heard Robert Johnson and came under Brian's tutorship and delved back into the blues with him. I was astounded at what I heard. It took guitar playing, songwriting, delivery, to a totally different height. And at the same time it confused us because it wasn't band music, it was one guy. So, how can we do this? And we realized that the guys we were playing, like Muddy Waters, had also grown up with Robert Johnson and had translated it into a band format. In other words, it was just a progression. Robert Johnson was like an orchestra all by himself. Some of his best stuff is almost Bach-like in construction."
–Keef in Life, 2010, p. 94
The Stones covered Johnson on Exile On Main Street ("Stop Breaking Down"), but I think this video is not only superior, I don't think there's a better Robert Johnson cover ever. God bless Mick Taylor.
Rolling Stones – Love In Vain

Filmed either June 24, 1972 in Fort Worth or June 25, 1972 in Houston.
3. The Album That Keeps Me Classy
McKinley Morganfield, A.K.A. Muddy Waters (1971 compilation)
"Rollin' And Tumblin', Pt. 1"
Recorded 1950
Muddy Waters – vocal, guitar
Ernest "Big" Crawford – standup bass
Probably Elgin Evans – drums
"We realized that the guys we were playing, like Muddy Waters, had also grown up with Robert Johnson and translated it into a band format. In other words, it was just a progression. What I found about the blues and music, tracing things back, was that nothing came from itself. As great as this is, this is not one stroke of genius. This cat was listening to somebody and it's his variation on the theme. And so you suddenly realize that everybody's connected here."
–Keef in Life, 2010, p. 94
"When it comes to Muddy, I get emotional. He had one of the most powerful, almost indefinable voices and he was shaping music. On top of that, when I met Muddy in 1964 or '65, he was such a gentleman. Just always warm, positive, and incredibly polite. I always try to remember, when I ain't feeling too good and I'm about to drag somebody down, to think, 'You know, Muddy wouldn't do that,' and I try to re-collect myself. Muddy didn't mind a good time either. I remember going to a party at his house in Chicago and there were all of my idols there. Something happened and I woke up in Howlin' Wolf's house [laughs]."
–Keef in Q Magazine, July 2011
"We were in Mississippi. We'd been playing this music and it had all been very respectful, but then we were actually there sniffing it. You want to be a blues player, the next minute you fucking well are and you're stuck right amongst them, and there's Muddy Waters standing next to you. It happens so fast that you really can't register all of the impressions that are coming at you. It comes later on, the flashbacks, because it's all so much. It's one thing to play a Muddy Waters song. It's another thing to play it with him."
–Keef in Life, 2010, pp. 9-10
Muddy Waters w/The Rolling Stones – Champagne And Reefer
Checkerboard Lounge, Chicago
November 22, 1981
"I'm gonna get high
Gonna get high just as sure as my name
Well you know I'm gonna stick with my reefer
Ain't gonna be messin' around with no cocaine"
4. The Album That Inspired My Guitar Weaving
Little Walter, Hate To See You Go (1969 compilation)
"Mellow Down Easy"
Recorded 1954
Little Walter – vocal, harmonica
Louis Myers – guitar
Dave Myers – guitar
Willie Dixon – bass
Fred Below – drums
"Little Walter Jacobs was one of the best singers of the blues and a blues harp player par excellence. I find it hard to listen to him without awe. His band The Jukes were so hip and sympathetic. His singing was overshadowed by the phenomenal harp, which was based on a lot of Louis Armstrong's cornet licks. Little Walter would smile in his grave for the way Mick Jagger plays (harp)."
–Keef in Life, 2010, pp. 108-09
"Little Walter was Muddy Waters' harp player, but he had an incredibly powerful, sort of smokey voice and wrote some lovely songs that were hits on his own. You can't really write blues on a sheet of paper, it has to be heard, it has to be experienced, and Little Walter is just one of the best at it. He had a great band called The Jukes with a couple of brothers, Willie and Dave Myers. I was always fascinated by how they played together, the way they weaved. I've been through Brian Jones, Mick Taylor, and Ronnie Wood and we've always been locked into that format. With Little Walter And The Jukes, you don't quite know who's playing what and you don't even care because it's so cool."
–Keef in Q Magazine, July 2011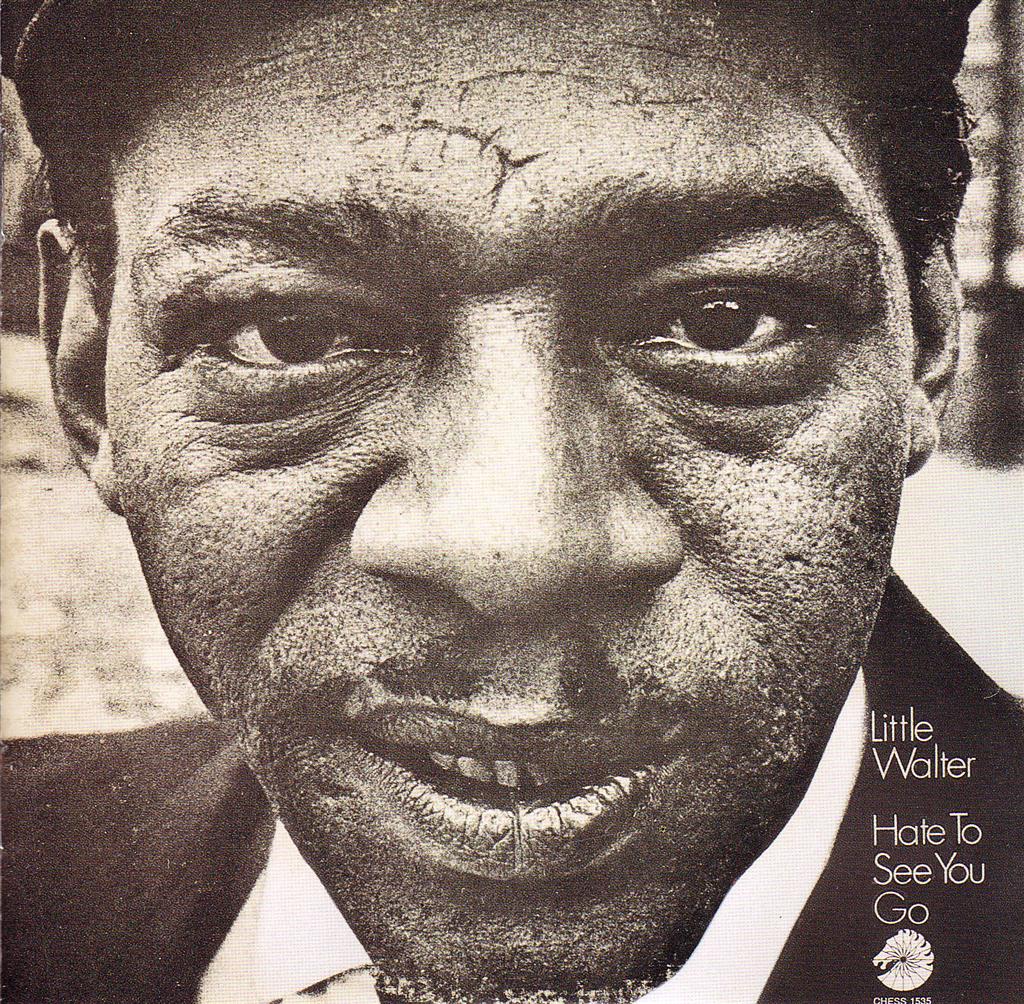 "From (Jimmy Reed) we moved on to Little Walter and Louis and David Myers, who were members of his backing band. And then, of course, the Muddy Waters stuff along Jimmy Rogers, Howlin' Wolf, and Hubert Sumlin. We listened to the teamwork, trying to work out what was going on in those records; how you could play together with two guitars and make it sound like four or five."
–Keef in According To The Rolling Stones, 2003, p. 37
"I have always been much more interested in 'the ancient art of weaving,' as Ronnie (Wood) and I call it. And Ronnie understands what that is all about. It's like the Bayeaux Tapestry, playing together in a way where you can't tell what is rhythm guitar and what is lead guitar and where you can pick it up, flow it around, and bung it across to the other guy. Where somebody will say to me, 'I love that lick you do,' and I can answer, 'Well, actually, I didn't do that, Ronnie did it!'"
–Keef in According To The Rolling Stones, 2003, p. 160
5. The Album That Smells Like The Swamp
Slim Harpo, Raining In My Heart (1961)
"Don't Start Cryin' Now"
Recorded June 1960
Slim Harpo – vocal, harmonica
Willie "Tomcat" Parker – tenor sax
Rudy Richard & James Johnson – guitar
T.J. Kitchen – bass
Sammy K. Brown – drums
"Ahh, swamp music, swamp blues … just incredible sounds. A lot of people don't know about this stuff and it is some of the darkest blues. The Stones were very early exponents of Slim when we did 'I'm A King Bee.' This album was cut down in Louisiana and you can almost smell the swamp and the Everglades coming off of this thing. Incredibly wry lyrics and I love the delivery. It's almost sleazy. At the same time, there is such a strength, quite a variety of rhythms and hints of cajun stuff involved. This proved that not all records are made in Chicago or New York. This was done down in the swamps and it smells like it, sounds like it, feels like it."
–Keef in Q Magazine, July 2011
From Robert Johnson to Muddy Waters to Little Walter to Slim Harpo. These musicians were not only part of the same continuum, each man directly influenced the guy following him in the list, and the collective profoundly shaped The Rolling Stones. Where earlier we mentioned the Robert Johnson cover on Exile, this is probably a good time to note that the other cover on Exile was Slim Harpo's "Shake Your Hips." To reiterate what Keef said above, "Everybody's connected here." And this, of course, brings us to how blues (and country) informed early rock 'n' roll, in the form of the Tupelo Flash.
6. The Album That Proved Less Is More
Elvis Presley, A Date With Elvis (1959 compilation)
"Milkcow Blues Boogie"
Recorded November-December 1954
Elvis – vocal, acoustic guitar
Scotty Moore – lead electric guitar
Bill Black – bass
"These are all Sun recordings, some of them from the first sessions. It points out what a great producer Sam Phillips was. This stuff is like seminal rock 'n' roll and there are absolutely no drums on about half these tracks. An incredible sound and a great choice of musicians. There's Bill Black on upright bass, Elvis on acoustic guitar, and Scotty Moore, one of my favorite guitar players of all-time, on electric. And out of that Sam pulled some of the hardest rocking records that you can imagine. It's minimalism, I suppose, how to get the most out of something with the smallest amount of ingredients, and out comes the best meal you ever had."
–Keef in Q Magazine, July 2011
"Scotty Moore was my icon. He was Elvis's guitar player on all the Sun Records stuff. He's on 'Mystery Train,' he's on 'Baby Let's Play House.' Now I know the man, I've played with him. I know the band. But back then, just being able to get through 'I'm Left, You're Right, She's Gone,' that was the epitome of guitar playing. And then 'Mystery Train' and 'Money Honey.' I'd have died and gone to heaven just to play like that. How the hell was that done? That's the stuff I first brought to the johns at Sidcup, playing a borrowed F-hole archtop Höfner. That was before the music led me back into the roots of Elvis and Buddy – back to the blues."
–Keef in Life, 2010, pp. 72-73
"Milkcow Blues Boogie" might be my favorite Elvis song because nothing better symbolizes how he dragged the blues kicking and screaming into the late 20th century. There's an almost proto-punk sense of urgency that came to define rock 'n' roll as Elvis sings the first verse country-blues style, but then kicks it into the "real real gone" stratosphere. This had to sound like fucking anarchy in 1955. Robert Johnson sang a similar song in 1936, "Milkcow's Calf Blues," featuring similar chord changes around different lyrics. But, it was Bob Wills' Tiffany transcription in 1946 that provided the likely template for Elvis. Thus, a musician blending blues, country, bluegrass, and pop (Presley) was influenced by a musician blending swing jazz, country, blues, western, show tunes, and polkas (Wills). The hyper-fragmentation of modern American music should make more sense in this context. The same process of mongrelization — he says in a good way — was happening in the 1950s, there were just fewer genres co-mingling.
7. The Album That Convinced Me To Write
Buddy Holly, The "Chirping" Crickets (1957)
"I'm Lookin' For Someone To Love"
Recorded February 25, 1957
Buddy Holly – lead vocal, guitar
Larry Welborn – bass
Jerry Allison – drums
Niki Sullivan, June Clark, Gary & Ramona Tollett – background vocals
"Later on I found out that Elvis was the real mama's boy backstage. It was Buddy who got the bitches over the fucking table. He never used to go on before he had a couple. It was totally the other way around from the images people had of them."
–Keef in According To The Rolling Stones, 2003, p. 15
"I remember talking to Lennon and McCartney about Buddy. The fact that he was writing his own songs was a great impetus for us. In those days you were a musician and the idea of also being a writer was the difference between the green grocer and the blacksmith. When he came to England I caught him on TV through a neighbor's window. We didn't have a TV at the time, so they were kind enough to open their curtains so we could see."
–Keef in Q Magazine, July 2011
One of my favorite Buddy songs, it showcases his underrated guitar picking and sense of humor. Dig the solos from :32-:48 and 1:04-1:20. That's how a Tele is supposed to sound. I also love Jerry Allison's snare crack between "foot slipped" and "there you are" in the pre-chorus coming out of the second solo. A great song that transcends the rockabilly label to which it's sometimes assigned, and the way Buddy's guitar pulls against the beat and works off the drums directly anticipates the Keith Richards-Charlie Watts relationship. I think you hear a related sensibility in "The Last Time," which I discussed a few months ago in Lotta Poor Man Got The Cumberland Blues.
8. The Album That Defined Motown
Smokey Robinson And The Miracles, Going To A Go-Go (1965)
"The Tracks Of My Tears"
Recorded 1965
Smokey Robinson – lead vocals
Marv Tarplin – guitar
Claudette Rogers Robinson, Pete Moore, Ronnie White, and Bobby Rogers – background vocals
Instrumentation: The Funk Brothers (exact personnel unknown) and the Detroit Symphony Orchestra
"For me, Smokey Robinson and The Miracles epitomize Motown. You could hear Smokey's influence going on through Diana Ross and Michael Jackson. Such a great songwriter. I mean, 'The Tracks Of My Tears' … you might as well just go and throw yourself in the toilet [laughs]. People like Smokey had such exuberance, you suddenly felt that it wasn't just you who was feeling this way. They were giving you a voice."
–Keef in Q Magazine, July 2011
The Stones allegedly recorded "Tracks Of My Tears" at the same March 1966 recording sessions that yielded "Paint It Black," "Under My Thumb," "Out Of Time," "Lady Jane," "High And Dry," and "Flight 505," but I've never heard an outtake. Not a bad studio experience even without the Smokey cover. Still, when I think about "Tracks," the first thing that comes to mind is this scene from Platoon (1986):
Set in 1967 during the height of the Vietnam War — two years after the release of "Tracks," mind you — Platoon stars a young Charlie Sheen, seen here smoking a joint. This is relevant because 25 years later, during a formidable manic episode, Sheen would say of his ability to party, "The run I was on made (Frank) Sinatra, (Errol) Flynn, (Mick) Jagger, (Keith) Richards, all of them, look like, you know, droopy-eyed, armless children." My favorite element of this brag is Sheen noting that the children were armless, as if children with arms can fucking party, bro!
9. The Album That Soothes A Broken Heart
Otis Redding, Complete & Unbelievable: The Otis Redding Dictionary Of Soul (1966)
"Fa-Fa-Fa-Fa-Fa (Sad Song)"
Recorded August 30, 1966
Otis Redding – vocals
Steve Cropper – guitar
Booker T. Jones – piano
Isaac Hayes – organ
Donald "Duck" Dunn – bass
Al Jackson, Jr. – drums
Wayne Jackson – trumpet
Gilbert Caples, Andrew Love – tenor saxophone
"What an incredible, plaintive, and expressive voice. Especially when you've had a few busted love affairs, you put Otis on and get out the cigarettes and coffee. I would take this around to friends who were having a hard time. Song such as 'Try A Little Tenderness,' they didn't die with the guy who wrote them. The point of a great song is that it doesn't care when it is or where it is, if it's held in the right way — and that's what Otis did."
–Keef in Q Magazine, July 2011
"It took the (Stones) a long time to figure out how to play 'Satisfaction' on stage. What made us like it was when Otis Redding covered it. With that and Aretha Franklin's version, which Jerry Wexler produced, we heard what we'd tried to write in the first place."
–Keef in Life, 2010, p. 178
Back in the spring of 2010, I discussed the release of Otis Redding's Live On The Sunset Strip album and included his righteous cover of "Satisfaction." Coincidentally, two weeks before Otis I published a long piece inspired by the reissue of Exile On Main Street, a post that featured not just the Stones, but also The Flying Burrito Brothers.
10. The Album That Made Me A Country Music Fan
Flying Burrito Brothers, The Gilded Palace Of Sin (1969)
"Do You Know How It Feels To Be Lonesome"
Recorded late 1968
Gram Parsons – lead vocals (left channel), piano
Chris Hillman – harmony vocals (right channel), guitar
"Sneaky" Pete Kleinow – pedal steel guitar
Chris Ethridge – bass
"Fast" Eddie Hoh – drums
"Of the musicians I know personally (although Otis Redding, who I didn't know, fits this, too), the two who had an attitude towards music that was the same as mine were Gram Parsons and John Lennon."
–Keef in Life, 2010, p. 248
"I used to hang out with Gram, sometimes not for the good. I survived, Gram didn't. He turned me onto cats like Merle Haggard and George Jones. He crystallized country for me. Gram reshaped country music. He brought it up to date and made it hip. Cats down in the south, they love their music. As a guitar player I want to throw the thing away sometimes when I hear these cats play."
–Keef in Q Magazine, July 2011
"Gram was a storyteller, but he also had this unique thing that I've never seen any other guy do: he could make bitches cry. Even hardened waitresses in the Palomino bar who'd heard it all. He could bring tears to their eyes and he could bring that melancholy yearning. Guys he could rub pretty hard, too, but his effect on women was phenomenal. It wasn't boo-hoo, it was heartstrings. He had a unique hold on that particular string, the female heart. My feet were soaking from walking through tears."
–Keef in Life, 2010, p. 249
11. The Album That Reminds Me Of Jamaica
Various Artists, The Harder They Come (1972 Soundtrack)
The Slickers, "Johnny Too Bad"
Recorded 1970
Exact personnel beyond Derrick Crooks unknown
"I lived in Jamaica and I know most of these cats. I happened to be in Jamaica when the movie came out, and it really reminds me a lot of those days. There was an incredible feeling there are that time because their music was coming to fruition. There are a lot of different styles on The Harder They Come and it just captures why I love Jamaica. The people's love of music is more obvious there. Wherever you went, music would follow you."
–Keef in Q Magazine, July 2011
"I also learned some useful Jamaican skills with the ratchet, the working knife used for paring and cutting, but also for fighting and protecting yourself, "with a ratchet in your waist," as Derrick Crooks of The Slickers sang in 'Johnny Too Bad.' I've almost always carried a knfie and this one requires special technique. I've ued it to make a point — or to get myself heard."
–Keef in Life, p. 345
"Some bigwig figure in the music business, invited by Mick, came to Montserrat to discuss some contract to do touring. He obviously fancied himself for his producing abilities, because we're standing in the studio area, playing back 'Mixed Emotions,' which was going to be the first single. And Keith is standing there with his guitar on and Mick's there and we're listening to it. The song finishes, and the guy says, 'Keith, great song, man, but I tell you, I think if you arranged it a little bit different it would be so much better. So Keith went to his doctor's bag and pulled out a knife and threw it, and it landed right between the bloke's legs, boinggg. It was really like William Tell, it was great. Keith says, 'Listen Sonny, I was writing songs before you were a glint in your father's dick. Don't you tell me how to write songs.' And he walked out. It was fantastic. I'll never forget it."
–Eyewitness account in Life, 2010, p. 484
In 1997, Steve Earle recorded a surprisingly strong cover of "Johnny Too Bad," not with The Dukes, but with Knoxville, Tennessee's mighty V-Roys, one of the great twangin' indie rock bands of the late '90s. Seriously, if you don't own Just Add Ice or All About Town, get yer ass over to Amazon and rectify that oversight. As it happens, 1997 also saw Earle collaborate with The Supersuckers, first on his El Corazón album ("N.Y.C."), then on their Creepy Jackalope Eye EP. While they collaborated on each other's songs for that EP, the Earlesuckers also covered a song written by one of their outlaw forefathers: "Before They Make Me Run."
12. The Album That Forces Me To Think
Warren Zevon, Excitable Boy (1978)
"Werewolves Of London"
Recorded 1977
Warren Zevon – vocal, piano
Waddy Wachtel – guitar
John McVie – bass
Mick Fleetwood – drums
"One of the best songwriters ever. Really intelligent and another one that made me go, 'Why didn't I write a song about my typewriter?' You can hear this is a guy that thinks a lot and was troubled, but doesn't mind laying it out on the line. A lot of these guys you come off listening to them and you've learned something. You realize that you can write a song about anything. You just hope they touch somebody and all these cats have touched me."
–Keef in Q Magazine, July 2011
I like Zevon's writing way more than I do his records and Excitable Boy is a perfect illustration why. It sounds so neutered, coked up, and fluffed for late '70s FM radio. Gimme Zevon on piano, with guitar, bass, and drums only. Everyone in the same room like a nightclub gig, with the horns and woodwinds locked in a closet, and the synths set on fire. A smaller, more intimate production with 95% less pro gear and pro attitude would've served these songs much better. To wit, "Werewolves Of London." For one thing, it helped that Zevon borrowed the Fleetwood Mac rhythm section, which is why the pocket sounds so good AND different from every other track on the album. McVie and Fleetwood had been playing together for over a decade and their groove roots down "Werewolves." Waddy Wachtel first met Zevon in 1971, when Warren hired him to play guitar for The Everly Brothers, for whom WZ was keyboard player and bandleader in that era.
Wachtel is of particular interest because in 1988 he joined The X-Pensive Winos. So sayeth Keef:
"Steve (Jordan) asked me who I wanted to play with, and first up, on guitar I said Waddy Wachtel. And Steve said, 'You took the words, brother.' I had known Waddy since the '70s and I'd always wanted to play with him, one of the most tasteful, simpatico players I know. And he's completely musical. Understanding of it, empathetic, nothing ever needing to be explained. He was playing with Linda Rondstadt and Stevie Nicks — chick bands — but I knew my man wanted to rock. So, I called him and said simply, 'I'm putting a band together and you're in it.'"
–Keef in Life, 2010, pp. 473-74
Keith Richards And The X-Pensive Winos – Connection
Hollywood Palladium
December 15, 1988
Keith Richards – lead vocals, guitar
Waddy Wachtel – lead guitar, backing vocals
Ivan Neville – keyboards, backing vocals
Charley Drayton – bass
Steve Jordan – drums, backing vocals
Sarah Dash – backing vocals, percussion
Bobby Keys – tenor sax (not on this song, but on this tour)