One of my favorite moments of 2010 was seeing John Doe and The Sadies play Cal State Northridge on November 20, and totally by chance. I stumbled upon the LA Weekly listing the day of the show, called a friend, and was at the venue before realizing the enormity of what I was about to witness. John Doe has been the punk rock Jesus of LA for 30 years and The Sadies combine the versatility and roots of The Band with the demented urgency and roots of The Cramps.
I originally wrote about their collaboration in April 2009, using their album, Country Club, as a jumping off point to talk about Roger Miller, The Knitters, and the Bakersfield Sound. Country Club is good, but suffers from too many ballads and not enough Sadies. I figured if a musical connection would come alive, it would be on stage (as pictured above). That assumption proved to be true.
Historical trivia: 41 years and 5 months earlier, maybe a 15 minute walk from where The Sadies were playing with John Doe, The Byrds played the Newport '69 Festival. The location then was the old Devonshire Downs racetrack. That property is now the north campus of Cal State Northridge. At the time, Clarence White and his new-fangled Stringbender guitar were members of The Byrds for not quite one year.
Doe was in great voice and his usual suave, badass self. Seriously, is there anyone cooler than John Doe??? I think not. Meanwhile, The Sadies whipped up their usual menu of surf, rockabilly, psychedelia, bluegrass, and punk. Travis and Dallas sang lead on 1-2 songs each and the collective tore through a pair of righteous X covers ("The New World" and "The Have Nots") for the win.
I finally witnessed Dallas rock the Bender. Last time I saw The Sadies was when they opened for Neko Case, also serving as her backing band. This was 2004-05. To my knowledge, he was not yet a member of the Church of Bend. I briefly discussed it with him after the gig, commenting on his banjo tuning pegs (the Keith tuners) and noting that his playing reminds me of Clarence White, only my favorite guitar player. What did he say? "Mine too." At which point, my homeboy, Fred Rockwood, took the picture to the left. I'm forever indebted to your quickdraw photo skills, Mr. Rockwood.
Sadies – Postcards
Darker Circles, 2010
Yep Roc
"Postcards" is from the band's excellent 2010 release, Darker Circles, and it sounds like it was written with The Byrds' Younger Than Yesterday in mind — "Time Between" and "The Girl With No Name," in particular. The Sean Dean (upright bass)-Mike Belitsky (drums) rhythm section locks into a tight pocket while Travis and Dallas layer sweet guitar parts over the top. It sounds like 1-2 acoustics, Travis on rhythm, and separate B-Bender leads in each channel, creating a cool, shimmering effect.

Darker Circles release show
Call The Office, London, Ontario
May 21, 2010
"We are definitely going more in a direction of the music that we love. There's a hybrid between country and western, the instrumental music of the '60s, '60s rock 'n' roll, and punk rock. That's why we play guitar. That's why we write songs."
–Dallas Good, interviewed by Gord Downie, 2010
This song is one of my favorites on Darker Circles because it synthesizes two different elements of the Sadies songbook. And in so doing, it hits on two of the main touchstones in the band's development. One we've discussed regularly. The other, less so. But they do connect.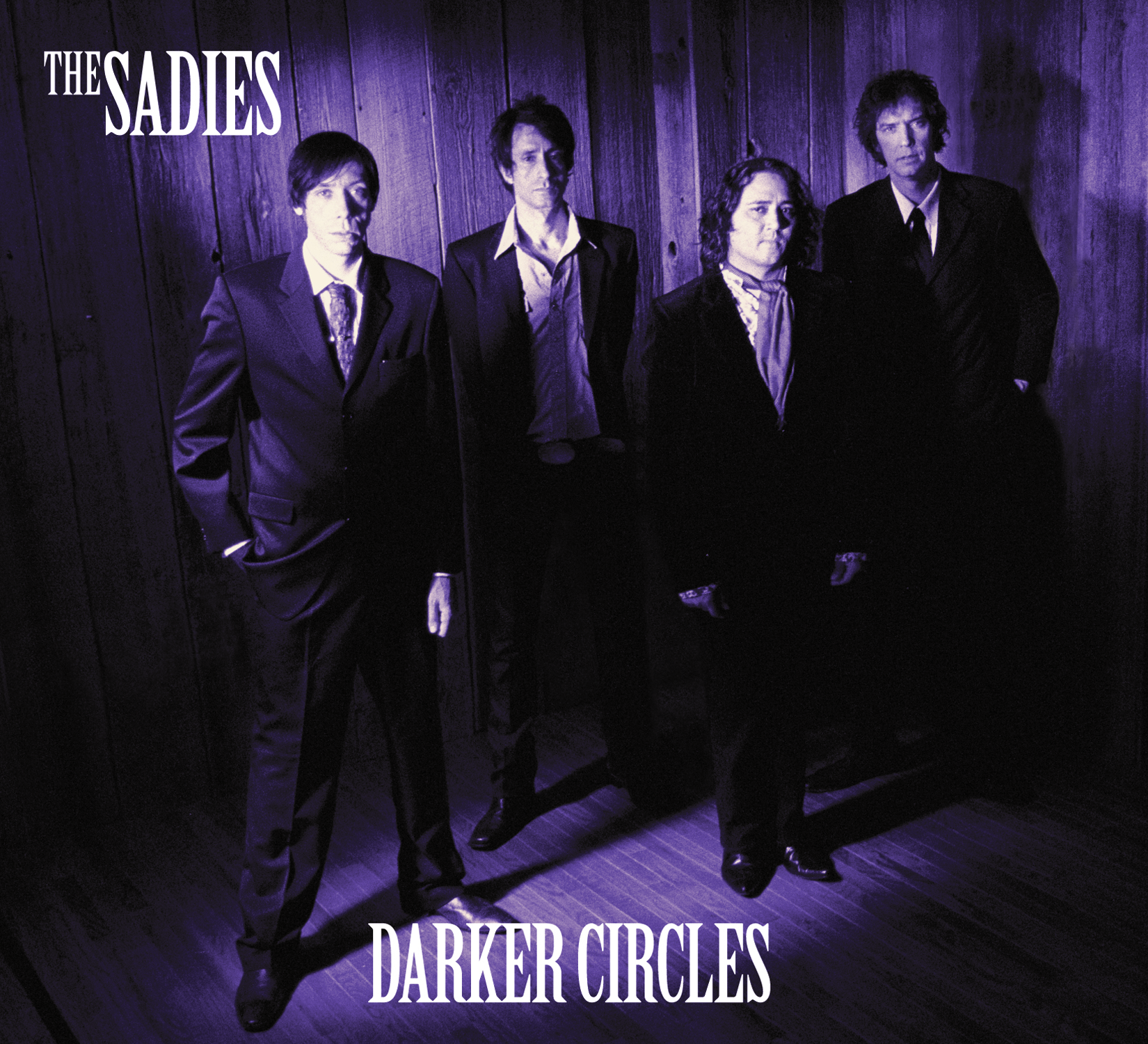 Sadies – Another Year Again, Pt 1 (opening 2:08)
Darker Circles, 2010
Yep Roc
This song is a hybrid of psychedelic engineering and country-rock know-how. In that sense, it mirrors "Change Is Now," The Byrds' bipolar antecedent from The Notorious Byrd Brothers (1968), which just happens to feature the session stylings of one C. White on super guitar. The opening salvo of "Another Year Again" features great vocal/guitar interplay between Dallas and Travis and bursts of reverby psych of a piece with earlier tunes like "The First Inquisition, Pt. 4" (New Seasons, 2007) and "Song Of The Chief Musician, Pt. 2" (Favourite Colours, 2004).
Sadies – Another Year Again, Pt 2 (:23 excerpt)
Darker Circles, 2010
Yep Roc
"Another Year Again, Pt 2" is the :23 bridge between the first and second half of the song, kicked off by Travis' modified Bo Diddley Beat. And with that, The Sadies join exalted company.
Stooges – 1969 (:49 excerpt)
The Stooges, 1969
Amazon
The Sonics came to punk first, as did the Velvet Underground. However, if you wanna discuss the origins of the genre with any degree of authority, you start with The Stooges. You can work backwards or forwards from there, but they're Ground Zero and this isn't really debatable.
"1969" is the first track on their first album and it brought the Bo Diddley Beat into an entirely new era, one that bled profusely from self-inflicted lacerations. Good ol' Iggy.
Gord Downie and The Sadies – Search And Destroy
Recorded December 6, 2007
Oh, and if you thought I might be stretching the connection between the Brothers Stooge and the Brothers Good, allow me to remove that doubt. This cover of "Search And Destroy" — arguably one of the 20 greatest rock 'n' roll songs ever — features Gord Downie, lead singer of The Tragically Hip, a streetwalkin' cheetah fronting The Sadies, a band who knows a thing or two about using technology.
Byrds – Tribal Gathering (final :41)
Notorious Byrd Brothers, 1968
Amazon
As noted, The Stooges were preceded by the Sonics and Velvets, not to mention the Stones and Dylan. However, they were also preceded by The Byrds. People forget (or don't know) that Roger McGuinn was capable of some of the gnarliest, sludgiest guitar tone this side of Iggy's late '60s Detroit and early '90s Seattle.
"Tribal Gathering" is a very strange song. Half of it features lightweight, Four Freshman-esque west coast vocal jazz, the kind of sound that gave Brian Wilson genius boners. But, the other half is straight-up proto-grunge. A more bipolar song you will not find and it makes me wonder … as I'm wont to do … why more of that McGuinn didn't show up on later releases, especially with a guy like Clarence White in the band.
Sadies – Another Year Again, Pt 3 (final 1:07)
Darker Circles, 2010
Yep Roc
Speaking of early '90s Seattle, this sounds like Mudhoney circa Every Good Boy Deserves Fudge. Rock 'n' roll, bitches. Get you some.
"We spread ourselves out pretty wide with all the people we've been playing with. And the list of people we want to play with is always getting bigger."
–Travis Good, as interviewed by Frank Goodman, 2007
Neil Young & The Sadies – This Wheel's On Fire
Garth Hudson Presents A Canadian Celebration Of The Band, 2010
Amazon
Recorded for Garth Hudson's Canadian Celebration Of The Band, this was a 2010 release that I liked, but wanted to love. The idea of Neil Young and the Sadies collaborating on a Dylan/Band song is as pure on paper gold as John Doe and the Sadies collaborating on classic country. In reality, both were lost opportunities for the same reason. Both projects underestimated the artistic reserves of The Sadies. "Wheel" should be a 7-8 minute epic with Neil, Dallas, and Travis trading guitar solos and Garth's mad scientist organ seamlessly filling the gaps. Neil takes a compact solo from 2:04-2:20, but it feels like a setup for a guitarpalooza that never comes.
Byrds – This Wheel's On Fire
Fillmore West, San Francisco
February 7-8, 1969
Amazon
This is how you do it. I like what David Fricke says about Clarence's playing in the Live At The Fillmore liner notes. He praises, "The low, tart whirl of White's intro lick in 'This Wheel's On Fire,' and the evocation of burning, unstoppable apocalypse in his full-force solo." Exactly. "Wheel" is meant to be covered like it owes you money. What makes the solo special (2:24-3:00) is that Clarence conveys menace, not by flurries of notes, but through filthy tone and a restrained fury that pulls against Gene Parsons' forward-moving beat.
It was an inspired musical tension that briefly brought out the best in McGuinn and made this era of The Byrds the band's high water mark. I know the pre-Sweetheart Gene Clark/David Crosby Byrds are the moneymaker. But, that era can't compete with the space-twang demolition machine that rocked the Fillmore West 40+ years ago.
Sadies – Wasn't Born To Follow
Tremendous Efforts, 2001
Amazon
The Sadies cut this Byrds/Easy Rider chestnut for their second album, Tremendous Efforts. When this album came out they were a better live band than recording unit, which explains why this cover is probably a little safer than it needed to be. It's good and faithful, but The Sadies of 2008 would've put this in a gravity bong and smoked it. What it tells us, though, is that even in 2001 they were ideally suited to carry on the Byrds tradition of marrying country and folk songs with psychedelic exploration. That's easier said than done. Lots of bands can wait beside a legendary fountain, it takes a band with deft musicianship and a soulful feel to reflect that form in clear and jeweled waters. The Sadies are that band.