This one goes out to Raul Vela IV, drummer for Gleeson, inventor of the enchilaco*, and mustachioed hero of the Grand Champeen song, "Raul Vela" [Amazon]. Raul requested that I write about The Mice, obscure Cleveland rockers who were the missing link between early Beatles, early Who, and The Jam on one side and Superchunk and Guided By Voices on the other. They were led by the Fox brothers, Tommy and Bill, with Tommy the preternaturally gifted, Keith Moon-esque drum machine and Bill the singer, guitarist, and brooding genius with the God-given ear for melody. Bassist Ken Hall held down the band's low end, his bass fills perfectly complementing Tommy's drum flurries, and his high vocal harmonies with Bill giving the band a classic power-pop feel.
* FYI, Raul is co-owner of Raul's Enchilacos in Floresville, TX, where he changes lives through quality Tex-Mex. Check it out if you're ever in the greater San Antonio area.
The Mice existed from about 1984-88 and like so many bands of the 1980s "college rock" era, they were almost purely a regional phenomenon. Their sphere of major influence was the triangle that starts at their Cleveland hometown, extends about an hour south to Akron, and then heads a half-hour northeast to Kent State University. Outside of Ohio they were relative unknowns. They toured the Midwest a bit and went up into Canada, but their national profile was more or less nonexistent. That could've changed — and given the ridiculously catchy songs Bill had written to this point, seems likely to have changed — but according to Joe Hagan's excellent profile on Bill Fox in The Believer's 2007 music issue:
The morning the Mice were set to go on a tour of the US and Europe, Fox broke up the band. For days, he didn't answer his doorbell or return phone calls. Tommy didn't talk to his brother for two years.

'I was supposed to be a very wealthy man by now,' Tommy says, only half-joking.
–Joe Hagan, "Transit Byzantium," The Believer, June/July 2007, p. 12
In 4 years, The Mice released 1 single, 1 EP, and 1 LP. That's it. And unfortunately, because those releases were on small labels with few resources (i.e. money) they were all out of print by the time the '80s turned into the '90s — if not long before that. It wasn't until 2004 that these songs had the opportunity to reach a larger audience, when Scat Records reissued the EP and LP on a two-fer CD, For Almost Ever Scooter. If you love the bands I mention above, you need this CD. Just trust me on this.
The Mice – Little Creatures
B-side of debut single, 1984
Discogs [Original 7″]
"I live in pain and agony
A million days a year
So glad that you have found me
I'll ride out with the pack
Go straight out into nothingness
Never to come back"
Though "Can You Walk On The Water, Baby?" was the A-side, I'm a bigger fan of the flipside. Sounds like a skiffle tune by way of Beatles For Sale-era Lennon (think "I'm A Loser" and "I Don't Want To Spoil The Party"), and Aftermath-era Stones (think "High And Dry" and "Sittin' On A Fence"). I like how Hall's bass is way up in the mix, providing the pulse for the band, and syncopating with Tommy's snare. That syncopation — along with Bill's acoustic guitar driving underneath — is what makes skiffle skiffle. It's a simple arrangement driven largely by youthful enthusiasm. Amazing to think that Bill Fox was 17 and Tommy all of 13 when this single was cut. The Mice, therefore, join the ranks of the great young-as-shit brother combos of the 1980s, including the Stinsons (Replacements) and McDonalds (Redd Kross).
I'm definitely not someone who assumes lyrics are autobiographical, but given what we know about the end of The Mice 4 years hence, the lyrics quoted above are eerily prescient of what was to come. We know that Bill Fox was in some measure of psychic pain, willfully abandoned the public eye, and except for very occasional pop-ins, has a social profile best described as Salinger-esque.
(In 1984), Fox's parents divorced. Bill moved into the basement of his father's chemistry lab and Tommy went to live with his mother and her new husband, whom Bill distrusted. The divorce "really freaked him out," says Tommy. Not that he got along any better with his father. His dad came to The Mice's first concert at a club called The Phantasy and they ended the set with "Not Proud Of The USA," wherein Fox addresses his father directly, singing, "Dad, you're so proud of the USA/It moves you in many ways," before declaring America an arrogant, dying empire comparable to Rome and Babylon. Fox's dad was a Korean War veteran whose foot was blown off in combat. "For my dad to hear that, he didn't like that," says Tommy.
–Joe Hagan, "Transit Byzantium," The Believer's 2007 Music Issue, p. 11
The Mice – Not Proud Of The USA
For Almost Ever EP, 1986
Scat Records [Twofer CD]
Discogs [Original Vinyl]
This one's probably the first truly great song by The Mice and one that you can't help but feel is a response to The Clash's "I'm So Bored With The USA." A rip-roaring anthem par excellence, there's a lot to love here. Tommy's furious drumming, Bill's howling lead vocal, the Bill/Ken "bah bah" high harmonies in the intro and then in the 8 bars leading into the last verse, and finally Bill's scathing, faux-Brit "NOT … proud!" in that last verse. Total classic and immersed in the politics of the Reagan presidency. While strident politics is so easy to do badly, in the right hands — Bill Fox, The Minutemen, X — it can be rocket fuel for meaningful artistic expression. So it is here.
The Mice – Little Rage
Scooter LP, 1987
Scat Records [Twofer CD]
Discogs [Original Vinyl]
An absolutely, note-perfect pop song. With the tightly wrapped K Hall/B Fox vocal harmonies, 1-2 acoustic guitars, and what sounds like a 12-string chiming on top, "Little Rage" stands with the best of Big Star and Badfinger. And when Mike Baker's trumpet comes in at 2:54 as the 12-string drops out and the song is held together with acoustic guitar and that pulsing bassline … fuckin' A. If that trumpet reminds you of Alan Civil's french horn solo on "For No One", you're not alone. And then the drums and 12-string come back in and ride the song back into the final verse, then outro with the murmured "dun dun duns." Gorgeousness and gorgeosity made flesh.
The Mice – Second Best
Scooter LP, 1987
Scat Records [Twofer CD]
Discogs [Original Vinyl]
"Your second best I'm just your second BEEE-EEE-ESSSSSTTTT!!!" [does backflip into drumset]
The soaring, close vocal harmonies over driving chords and rousing drums is totally reminiscent of Soul Asylum, who were contemporaries of The Mice. You could argue that the secret weapon to both bands, at least in their respective primes, were their drummers (which in Soul Asylum's case was the unheralded Grant Young). I have no idea if Dave Pirner or Dan Murphy influenced Bill Fox's songwriting, but "Second Best" is STRONGLY reminiscent of "Crashing Down," which was written by Murphy and released a year before Scooter. Judge for yourself:
BONUS TRACK: Soul Asylum – Crashing Down
While You Were Out, 1986
Amazon
While the Soul Asylum brand is certainly not obscure, I'm not sure how many people remember — or even know — how badass they were between 1986-90. True story. Now, normally I'd keep the spotlight on The Mice and not introduce other acts, especially a bigger act like SA, but I think it's instructive to view The Mice within the context of midwestern/Great Lakes geography. You can actually draw a direct line that starts in Minneapolis (Hüsker Dü, The Replacements, and Soul Asylum), heads 335 miles southeast into Rockford, Illinois (Cheap Trick), and then heads another 435 miles due east into Cleveland (The Mice). As it happens, by 1986-87 all 5 of these bands were combining melody and power in a generally similar fashion, and that direct line to which each was connected consisted of 2 roads: Interstates 94 and 90. Especially in the pre-internet era, an underground band's sphere of influence was likely to extend as far as they were willing to drive, and driving on interstates between gigs made the most economic sense, as true then as it is now.
BONUS TRACK: Superchunk – Bye Bye Kitty Cat [Mice cover]
Duke University, Durham, North Carolina
September 26, 1997
While musical influence can happen because you see a band perform, sometimes it's the right record hitting the right turntable at the right time. To my knowledge, the various members of Superchunk never actually saw The Mice, but they surely heard their music. We know this because on at least one memorable occasion they covered one of Scooter's best tracks. Their version of "Bye Bye Kitty Cat" can be found on Clambakes Vol 8: We'd Like to Thank the Homecoming Committee – Live at Duke 1997, the bonus disc to the Indoor Living reissue that Merge Records put out earlier this year. As with The Mice, Superchunk's version succeeds because lead singer Mac McCaughan gets after it vocally and the band is driven in a big way by drummer, Jon Wurster.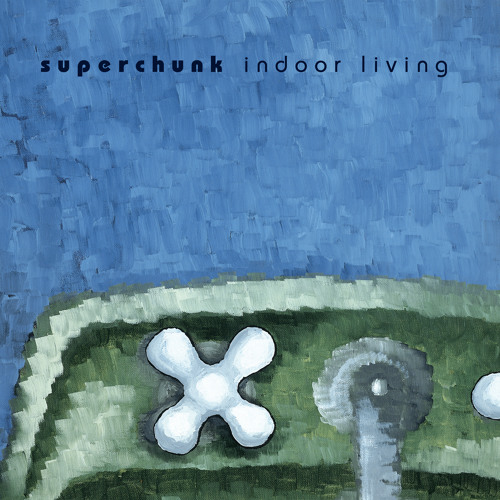 There is an interesting subtext here. While The Mice existed in a world far away from Superchunk's Chapel Hill, NC, homebase, the final song on Scooter is a moody folk tune called "Carolina" which clearly anticipates Bill's solo albums a decade later. And while it's a bit vague as to whether the Carolina in question is a woman or the state, it could inhabit a universe similar to Ryan Adams' "Oh My Sweet Carolina," a song, incidentally, that includes the lyric, "So I went on to Cleveland and I ended up insane." Furthermore, on an unreleased Mice song called "Music Here," Fox sings, "James is deep in Carolina, the Christmas season brings him home."
One final note: Superchunk covered "Bye Bye Kitty Cat" in 1997 and then 14 years later a bye bye kitty cat would star in one of their funniest videos. Check it: Superchunk Presents Bad Kitty Cinema.
The Mice – Phone In My Car
Canterbury Bells LP, recorded 1987
Issued by Scat Records on the Unreleased & Live Recordings CD-R, 2004
Above I mention an unreleased Mice song. In fact, that song was unreleased because Bill broke up The Mice before they could finish their follow-up to Scooter, entitled Canterbury Bells. I can tell that a few of the tracks are missing a guitar solo or vocal harmonies, but the Fox magic is still there. This song, in particular, is a brilliant showcase for Tommy's insanely frenetic drumming — which bears more than a passing resemblance to "Born To Run." Seriously, Tommy was an animal on the kit. Or, Animal. I can't remember who said this — Hunt Sales? — but an old rock 'n' roll adage is burned into my brain. "Good drummer, good band. Great drummer, classic band."
That drummer quote also brings to mind a great passage from the Hagan article, which is a pretty good summation of both The Mice and what Tommy brought to The Mice:
A reviewer once said that Tommy played drums like he had "a thousand ants crawling on his back." Skinny, bespectacled, and bearded, Tommy is a flurry of arms, a sweat-spraying machine backing two electric guitars and soaring, feel-good choruses that send the drunken crowd roaring with joy.
–Joe Hagan, "Transit Byzantium," The Believer, June/July 2007, p. 11
Word. And with the benefit of hindsight, it's funny to consider how revolutionary a car phone was in 1987. We take constant phone communication for granted now, but in the 1980s? A phone in a car — and no doubt it was one of those big-ass bricks — was a genuine totem of financial success and class consciousness. As Bill sings, "It's the first in town and it's a load of fun" (:35) and "Since I got my phone I've got a lot of friends around" (1:00). But, this being Bill Fox, the consumerism really masks what's basically a love song. "If it gets ripped off I know that you'll stay true" (1:30). Such a great song. I can practically smell the spilled beer.
The Mice – I Got A Gal In Kalamazoo
Canterbury Bells LP, recorded 1987
Issued by Scat Records on the Unreleased & Live Recordings CD-R, 2004
Another slice of pure pop confection and like the aforementioned "Carolina," a song that presages Bill's later work on Shelter From The Smoke (1997) and Transit Byzantium (1998). Bill's lovelorn voice is a thing of beauty, Tommy again kills it on drums, and Ken Hall's bassline essentially harmonizes the melody under Bill's voice.
Fun facts: "(I've Got A Gal In) Kalamazoo" was a monster hit for the Glenn Miller Orchestra in 1942, but that was a completely different song. Also, it's worth noting that Kalamazoo is located off a major east-west thruway: Interstate 94. Coincidence? I think not.
The Mice – Who/Beatles Medley
Mather Courtyard, Case Western Reserve University, Cleveland, OH
June 4, 1988
I Can't Explain
Happy Jack
Anyway, Anyhow, Anywhere
I Can See For Miles
I Wanna Hold Your Hand
She Loves You
A Hard Day's Night
A fun run through the band's British Invasion roots. Obviously, there's a few clams and flubbed lines here, but who gives a shit? This isn't math, let alone a Grand Champeen show, it's an underground rock band playing a free show on the quad. Of COURSE this same set would've been preferable at midnight with a few beers under your belt. But, there's not a whole lot of Mice footage available, so why not climb in the 1988 time machine to see a killer group shortly before they called it quits?
FOR ALMOST EVER
As I noted above, in their brief 4 year existence, The Mice released only 1 single, 1 EP, and 1 LP. There's also an odds-and-ends comp of unreleased and live tracks floating around on the Googlewhozits. So, the catalog isn't particularly deep, but it is rich, and certainly suggestive of "what might've been." In a sense, though, The Mice are proxies for every great college band that put out a couple of singles and maybe 1 great album before real life took over. That story needs to be told … and re-told.
I'd again like to offer my thanks to Raul for inspiring me to write this post. It had been a few years since my last Mice binge and I was due. Plus, the opportunity to pass along my love of The Mice to others was too good to pass up. If you're an old school Adios Lounge fan I think the band will be right in your wheelhouse, as the tracks linked above should make plain. And hopefully, these songs will whet your appetite for a solo Bill Fox post, which I hope to finish in the next few months.
"Your second best I'm just your second BEEE-EEE-ESSSSSTTTT!!!" [pours out 40 in memory of The Mice]