Did you know that Jay Farrar of Uncle Tupelo and Son Volt fame published a book last year? Falling Cars And Junkyard Dogs was issued by indie Soft Skull Press and while it's autobiographical, it's not a straight linear narrative. In fact, there's not much narrative at all. It's autobio through a series of vignettes from his life and career. His father, Jim "Pops" Farrar, figures prominently as mentor, cancer fighter, merchant mariner, libertarian, and musical guidepost. Uncle Tupelo is never mentioned by name and Jeff Tweedy is referenced as "the bass player." But, nostalgic stories of the Uncle Tupelo era are infused throughout, often refracted against the greatness of elder statesmen like Doug Sahm, The Band, or Taj Mahal.
One vignette is particularly memorable for its insight into Farrar's musical education and sense of class consciousness. Musically, there's a real sense of, "Of COURSE that's what you were listening to," but as a window into haves and have nots it's equally instructive. Jay Farrar, the have not, fully appreciating the have's discard pile.
EIGHT-TRACK HEAVANA
"It was my second car and the year was 1983 — and for a 16-year-old, a 1976 Pinto four-speed station wagon with a sun roof and an 8-track player was heaven and nirvana rolled into one.

From somewhere I had acquired three 8-track tapes: The Ramones' Road To Ruin, Jimi Hendrix's The Best Of Jimi Hendrix, and The Rolling Stones' Sticky Fingers. On the surface these three might seem mismatched or incongruous, but through repeated listenings, I found commonality and musical continuity with all three. The country-influenced 'Questioningly' by The Ramones could sit next to The Rolling Stones' 'Wild Horses,' while the ethereal slide guitar of Ry Cooder on the Stones' 'Sister Morphine' was complimentary next to the incendiary Jimi Hendrix's 'All Along The Watchtower.'

It was all fortuitous for me that some Belleville person 'upgraded' their muscle car sound system to cassette format and threw out their 8-track tapes. In actuality, 8-track tapes sounded much better. Whether the demise of the 8-track format was due to planned obsolescence and collusion amongst record companies to coerce people to buy cassettes or for simple reasons of convenience and size, I'm just glad I got to live my own slightly anachronistic 8-track era."
–Jay Farrar, Falling Cars And Junkyard Dogs, p. 56
Ramones – Questioningly
Road To Ruin
1978
Amazon
Joey Ramone – vocal
Johnny Ramone – guitar
Dee Dee Ramone – bass, backing vocal
Marky Ramone – drums
Road To Ruin captures that moment when The Ramones openly coveted mainstream success, or at least a modicum of radio play. Their first three albums — Ramones (1976), Leave Home (1977), and Rocket To Russia (1977) — are now understood as timeless classics, but they didn't sell particularly well at the time, despite the fact they forever established the band as THE gatekeepers of stripped down, three-chord rock 'n' roll. In that context, Road To Ruin was almost bound to fail. It's admittedly a little glossier than the previous records, with acoustic guitars higher in the mix, greater attention to melody, and actual slow songs, including "Questioningly."
Road is good, but suffers from two things: 1) It followed one of the strongest three-album runs in rock history, so anything falling short of that standard was going to suffer from an exaggerated sense of disappointment and 2) It occasionally sounds unsure of itself. "I Wanna Be Sedated" and "She's The One" are textbook Ramones, as good as anything in the early catalog. "Needles And Pins," their great cover of the 1962 Searchers hit, was poppier than any previous Ramones track, but it was a logical extension of "I Wanna Be Your Boyfriend" and "Do You Wanna Dance?" On the other hand, "Don't Come Close" and "It's A Long Way Back" sound like poorly chosen covers. Not shitty, but ill-fitting. As former drummer and Road To Ruin producer, Tommy Ramone, admitted in 1993 about the state of The Ramones prior to the Road sessions:
"What's wrong? Why can't we make it? This is what happens at this point in every band's career. What do we do next? We can't keep doing the same thing. Who's big? This is where the rot sets in. Now we start listening to other things. What's successful, what's not? See, that's bound to happen. You can't keep putting the same album out."
–Tommy Ramone to Clinton Heylin, From The Velvets To The Voidoids: A Pre-Punk History For A Post-Punk World, p. 316
"Questioningly" is one of Road To Ruin's highlights despite the fact — or maybe because of the fact — it doesn't really sound like any Ramones song that preceded it. In a weird way it anticipates Jeff Lynne-era Tom Petty (think "I Won't Back Down" or "Learning To Fly") with its sustained slide guitar intro and subtle country feel. Of course, the Lynne-Petty combo suggests another reference for "Questioningly," fellow Traveling Wilbury, George Harrison. But, the Petty comparison is apt. He, too, covered "Needles And Pins," with the song appearing on 1985's Pack Up the Plantation: Live!, after having been recorded on June 28, 1981, at The Fabulous Forum in Inglewood.
People forget that in the late '70s and early '80s, Tom Petty and The Heartbreakers were marketed as new wave and punk. True story. In February 1977, as Los Angeles was undergoing its initial punk rock inculcation, Blondie played 9 shows over 2 weeks at the Whisky a Go Go. Their opening act that first week was Petty. For the second week it was The Ramones. That same year, the two bands were featured on a now-pricey Swedish split LP (see above), with Ramones songs from their first 2 LPs featured on the A-side, and tracks from Petty's debut making up the B-side. Then, almost exactly 25 years later, both groups were part of the same Rock and Roll Hall of Fame class.
Tom Petty and The Heartbreakers actually suffered from the same problem as Cheap Trick, The Pretenders, AND The Ramones. They were each, in their own way, traditional rock bands emerging at a time when major record labels and commercial radio stations couldn't market punk. So, they invented new wave. Ironically, a similar marketing quandary played itself out roughly 15-20 years later, when a new generation of trad rock bands emerged, albeit ones that incorporated country, folk, and bluegrass. It sure as hell couldn't be marketed as grunge and it didn't sound like alternative rock, but because referring to things as "alternative" was a stupid thing we did in the '90s, into this vacuum stepped alt.country and alternative country. I'm sure none of these contemporaneous promotional concerns were in the mind of 16-year-old Jay Farrar, but I bet 24-year-old Jay Farrar would've understood, as he saw Rockville Records attempt to market Uncle Tupelo's debut, No Depression.
Incidentally, while Uncle Tupelo and The Ramones might not seem to have much common ground, every American rock band worth a shit from the late '70s on has been influenced by The Ramones. It's not even avoidable at this point and probably hasn't been since 1980. But, were The Ramones influenced by country music? That doesn't seem possible, right. Not so fast, says Tommy Ramone:
I've always been into old time music and country and bluegrass. Certainly my songwriting with The Ramones was very much influenced by country. It just might be hard to hear. A record I produced, for The Ramones when Marky Ramone was playing drums, had major, major influences of country. It's called Road To Ruin. If one listens closely, they can hear lines very similar to the Uncle Monk (Tommy's acoustic bluegrass duo) record musically. On certain songs like "Questioningly" and "Don't Come Close" on the Road To Ruin record by the Ramones there are many country-influenced guitar lines. Since I originated those riffs and they come from my sensibilities, there is a similarity to the mandolin riffs on a song like "Need a Life" on the Uncle Monk album."
–Tommy Ramone to Jaime Scorby, Razorcake, September 6, 2009
Rolling Stones – Wild Horses
Sticky Fingers
1971
Amazon
Mick Jagger – lead and background vocal, percussion
Keith Richards – electric and 12-string acoustic guitar, high harmony vocal
Mick Taylor – acoustic guitar (Nashville tuning)
Jim Dickinson – tack piano
Bill Wyman – bass
Charlie Watts – drums
"Wild Horses" was 1 of 3 songs the Stones recorded at Muscle Shoals Sound Studio in Sheffield, Alabama, on December 2-4, 1969. "Brown Sugar" and Mississippi Fred McDowell's "You Gotta Move" were the others. So yeah, not a bad application of studio time. Of course, they celebrated this historic session by flying out to San Francisco and playing the Hell's Angels' Free Beer and Bloodsacrificepalooza at Altamont Speedway on December 6. Oops. In retrospect, they probably should've stayed in Alabama, cut another song or two, and called it a day. Now playing in my head: Tuscaloosa's Dexateens playing "Take Me To The Speedway." Roll Tide.
"Wild Horses" is classic Jagger/Richards, with Mick supplying the words (supposedly about Marianne Faithfull) and Keith responsible for the music. The lyrics are good, but this song works because of soulful singing and an inventive arrangement. Instruments weave in and out, with lots of space to move around, and there's constant tension and release as the song slowly builds to its rousing outro. The genius of "Wild Horses" is that you have defined electric (Richards), 12-string (Richards), and high strung acoustic guitar (Taylor) parts, Jim Dickinson offers judicious commentary on piano, Bill Wyman rips off little tornadoes of bass guitar, and yet no one overplays or steps on each other's toes. Charlie Watts doesn't even join in until the 2:11 mark, a subtle harmonic shift that takes the song to another level. When he drops out at 4:35 and comes back in at 5:06 it gives "Wild Horses" a sweeping, epic feel.
"'Wild Horses' almost wrote itself. It was really a lot to do with, once again, fucking around with the tunings. I found these chords, especially doing it on a 12-string to start with, which gave the song this character and sound. There's a certain forlornness that can come out of a 12-string. I started off, I think, on a regular 6-string open E, and it sounded very nice. But, sometimes you just get these ideas. What if I open tuned a 12-string? All it meant was translate what Mississippi Fred McDowell was doing – 12-string slide – into 5-string mode, which meant a 10-string guitar."
–Keith Richards, Life, 2010
"(I)t was (Keith's) melody. And he wrote the phrase 'wild horses,' but I wrote the rest of it. I like the song. It's an example of a pop song. Taking this cliché 'wild horses,' which is awful, really, but making it work without sounding like a cliché when you're doing it."
–Mick Jagger to Jann Wenner, Rolling Stone, December 14, 1995
"On 'Wild Horses' I played acoustic guitar in what they call a Nashville tuning, which is tuned in exactly the same way, but you use all 1st and 2nd strings [high E and B strings], and you tune them in octaves [i.e., you tune them up an octave]. So you're really playing in the same tuning – it's kind of like playing a 12-string guitar without the other six strings. That's the best way to describe it. This was on one of Keith's Gibson acoustic guitars."
—Mick Taylor to Jas Obrecht, June 22, 1979
"During 'Wild Horses,' Jim Dickinson showed up from Memphis. (He) was out behind where we put the guitar amps. (It) was our tack piano, an old upright piano; we put tacks on the hammers so it sounded like a honky tonk. Anyway, Jim was back there just tiddling on it, playing along with what they had settled on as the groove, and Keith walked by and said, 'Hey you need to play that!'"
—Session producer Jimmy Johnson to Bruce Borgerson, 2005
"I remember we sat around originally doing this with Gram Parsons, and I think his version came out slightly before ours. Everyone always says it was written about Marianne but I don't think it was. That was all well over by then. But, I was definitely very inside this piece emotionally. This is very personal, evocative, and sad. It all sounds rather doomy now, but it was quite a heavy time."
—Mick Jagger in the liner notes to the Jump Back compilation, 1993
All quotes collected by Time Is On Our Side, an essential Rolling Stones database.
Flying Burrito Brothers – Wild Horses
Burrito Deluxe
1970
Amazon (twofer with Gilded Palace Of Sin)
Gram Parsons – vocals, rhythm guitar, keyboards
Chris Hillman – vocals, bass, mandolin
Bernie Leadon – vocals, guitar, dobro
Sneaky Pete Kleinow – pedal steel guitar
Leon Russell – piano
Michael Clarke – drums
This is where we veer slightly off the Falling Cars And Junkyard Dogs path, but for educational purposes. If the Stones' version of "Wild Horses" pointed a way ahead for a teenage Farrar, it did that and then some for a 23-year-old Gram Parsons. Shortly after laying down the basic track and Mick's lead vocal at Muscle Shoals, the Stones sent the song to Sneaky Pete Kleinow, pedal steel visionary for the Flying Burrito Brothers. They wanted him to add a steel part, which he recorded, but ultimately they chose not to use it. Considering the final release of the song, can't say that I blame them. However, when GP heard the track, he begged Mick and Keith to let him cut it for the Burritos, a request to which they assented.
I am curious about one thing. As I mentioned above, the Stones flew straight from Alabama to San Francisco to headline Altamont, but do you remember who opened that show? OK, Santana was the first band, but playing second were the Flying Burrito Brothers. They're briefly shown in Gimme Shelter, shit-kickin' their way through Dave Dudley's trucker anthem, "Six Days On The Road." So, did Gram hear "Wild Horses" there? I suppose the Stones could've shipped the master tapes to London to await their return, but it's also possible they brought the songs to Altamont so they could listen. Since Gram and Keith were friends – and Gram and Mick were friendly enough – it's conceivable that GP first heard the song "backstage," the melancholy strains of "Wild Horses" wafting through the Altamont air, undergirded by the thwack of Hell's Angel pool cues on teenage skulls. The '60s were such a romantic time.
As for the Burritos cover, I wish I could say that Parsons, Hillman, and Co. take the Stones to country-gospel heavana, but alas, I cannot. Where the Stones version is elevated by effective spacing of instruments and the warm, Muscle Shoals vibe, the Burritos offer a mish-mash of guitars and Gram's voice going in and out of pitch. Sneaky Pete's steel is a highlight, as is Leon Russell's drive-by piano solo, but by and large, it sounds like the band learned the song 10 minutes before they recorded it. Not terrible, but underwhelming given the talent and expectations, a claim that is probably true of the entire Burrito Deluxe album.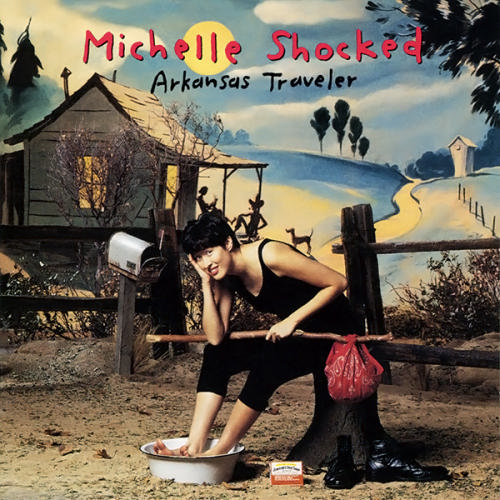 Michelle Shocked w/Uncle Tupelo – Shaking Hands (Soldiers Joy)
Arkansas Traveler
1992
Amazon
Michelle Shocked – vocals
Jay Farrar – vocals, electric guitar
Jeff Tweedy – bass, vocals
Bernie Leadon – mandolin
Mike Heidorn – drums
Jack Irons – field snare intro
One of the great obscurities in the Uncle Tupelo catalog is unique for bridging two generations of country-rock and opening a door to UT's immediate future. "Shaking Hands (Soldiers Joy)" appears on Michelle Shocked's 1992 album, Arkansas Traveler, which I'm reluctant to call it alt.country because I'm reluctant to call anything alt.country. But, as a versatile document of country and folk music that actually rocks, you could do a LOT worse than check it out. Shocked collaborates with the likes of Taj Mahal, Levon Helm and Garth Hudson from The Band, Pops Staples of The Staple Singers, fiddler Byron Berline, do-everything-fix-it-man, Clarence "Gatemouth" Brown, and of course, Uncle Tupelo.
What makes the UT contribution noteworthy is that the band is joined by former Flying Burrito Brother and original Eagle, Bernie Leadon, who also served as de facto bandleader for Arkansas Traveler. His mandolin playing is the perfect complement to Tupelo's runaway train and it blows my mind that this collaboration has never been publicly heralded, at least to my knowledge. This, despite the fact it unites the pioneers of what came to be called alt.country in the '90s, with a pioneer of what was called country-rock in the late '60s and early '70s. You think someone might've mentioned that in the last 22 years. Why do I have to do everything???
"Shaking Hands (Soldiers Joy)" opens as a folkie dirge with Jack Irons' martial snare riding underneath Michelle Shocked's double-tracked vocal. Then, at :42, Leadon kicks in on mando and Uncle Tupelo falls in behind, turning that funereal tone into stone-cold country punk. Farrar gets after it vocally, singing with edge and purpose, Tweedy's raspy harmony vocal a perfect foil. The Farrar/Tweedy/Heidorn rhythm machine is locked in as usual, but the way Leadon's mandolin integrates with the power trio is like an alternate vision of early Uncle Tupelo, as if Max Johnston joined before Still Feel Gone instead of Anodyne. Coincidentally, during the instrumental sections of "Shaking Hands," the melody and mandolin-led arrangement reminds me of "Pickles" by The Gourds, which came out 8 years after Arkansas Traveler. Why is that a coincidence? Because the mandolin player on "Pickles" is none other than Max Johnston.
Speaking of Johnston, he and Shocked are brother and sister — fun fact! — and it was while serving in her backup band for the Arkansas Traveler Revue that he met Farrar and Tweedy. That tour kicked off October 1, 1992, in Connecticut and featured Michelle, The Band, Taj Mahal, and opening every show, acoustic Uncle Tupelo. Unfortunately, The Band was fired after 6 shows, according to this Chicago Sun-Times article, "due to its refusal to join in the performance of a certain song at show's end." If I had to guess it was "Jump Jim Crow," a blackface minstrel homage that includes the lyrics, "Tarbaby, Tarbaby, tell me true/Who is really the jigaboo?" Yeah, for some reason people found that offensive, not sure why. Anyway, with The Band no longer in the fold, UT left the revue after the next show, an October 9 date at Carnegie Hall. Nevertheless, those 7 shows were enough time for Jay and Jeff to feel comfortable with Max and he joined Uncle Tupelo full-time in late 1992/early 1993.
"What the bullet would not kill, the needle will."
"Shaking Hands" also occupies interesting thematic territory because it's a first-person narrative of a Confederate soldier shot in battle and his ensuing struggle with morphine addiction. "Soldiers Joy" is a reference to morphine, which injured soldiers used to "numb the pain," but to which they often became addicted. This lyrical conceit is relevant because one of the things that makes Falling Cars And Junkyard Dogs a compelling read is Jay coming to terms with his father's own obsession with the Civil War, specifically his allegiance to the Confederate States of America (aka The South).
"The American Civil War was still going on in the 20th century. The issue at hand that caused what was perhaps the last battle of the American Civil War was: what to name me on the day I was born. As a result of these hostilities over naming rights, I was at the hospital for the first day of my life without a name.

Negotiations between the North (my mother) and the South (my father) continued while I tried to make sense of the transition from the warmth of the womb to being nameless in the stark environs of a hospital. History has a way of repeating itself, and once again, the South lost the last battle. As it turned out, I was not named "Stonewall" (Stonewall Jackson) or "Jubal" (Jubal Early) or "Jeb" (J.E.B. Stuart) or "Forrest" (Nathan Bedford Forrest), as these Confederate general names were preferentially presented by the South – but summarily dismissed by the North. Thanks Ma …" ("The Last Battle," p. 14)
Farrar has never come off as particularly funny, but the dry wit and bemused observations throughout Falling Cars And Junkyard Dogs make it an engaging, surprisingly breezy read. Highly recommend it for all Uncle Tupelo and Son Volt fans. Although, I will add an appendix to the above story. Jay's older brothers were Wade and Dade, so he's also lucky he wasn't named Jade. Because instead of founding UT he would've been a stripper with a coke problem. So, there's that.
Since we were just talking about morphine, let us return to 1983 and Farrar's styling Pinto.
Rolling Stones – Sister Morphine
Sticky Fingers
1971
Amazon
Mick Jagger – lead vocals
Keith Richards – acoustic guitar, backing vocals
Ry Cooder – slide guitar
Jack Nitzsche – piano
Bill Wyman – bass
Charlie Watts – drums
"Sister Morphine" is an interesting Sticky Fingers selection because it was actually recorded on March 31, 1969, during the Let It Bleed sessions. There's some controversy over how much was written by Jagger/Richards and how much was written by Marianne Faithfull, who is now credited as co-author. Faithfull has since admitted she was influenced by "Sister Ray" and "Heroin" by The Velvet Undergound and given those titles, that would make sense. In fact, she released "Sister Morphine" as a single in February 1969, well ahead of the Stones, but it went nowhere. The song is supposedly about a guy getting into a car crash and demanding morphine, not unlike the protagonist of "Shaking Hands (Soldiers Joy)." However, with the cocaine reference and the fact that heroin addiction was afflicting many in the rock community in this era, it would be easy to interpret the song more generally as a portrait of drug abuse.
Whatever the case, the Stones throw down a tight, swinging groove in the final 3 minutes, with Ry Cooder guesting on bottleneck slide (panned right) and Jack Nitzsche on piano (mostly panned left and heavily-reverbed, creating an off-balance feel appropriate to the subject matter). In an eerie similarity to "Wild Horses," Charlie Watts is first heard at the 2:11 mark on kick drum, the full Watts experience rolling in at 2:36. He, Cooder, and Jagger are the stars of "Sister Morphine," but it's a haunting, assured performance by the whole group. On a lyrical note, I've never been crazy about the "sweet cousin cocaine" line. Seems forced, like this album's "mentholated sandwich." Mick has specifically cited it as Marianne's, but who knows. It's a very minor criticism of a classic song and the only track on Sticky Fingers to not feature Mick Taylor — because when it was recorded Brian Jones was still in the band. So, why was Jones not on the track? Because he was Brian Jones, full-time self-immolationist, as we'll hear about below.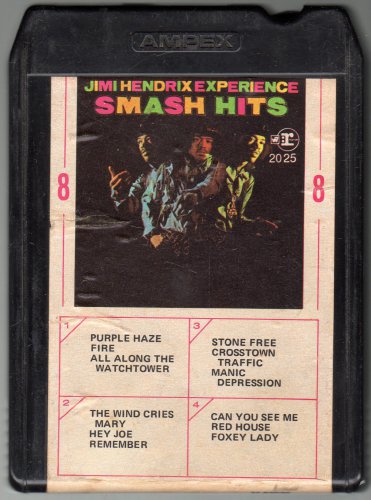 Jimi Hendrix Experience – All Along The Watchtower
Electric Ladyland
1968
Amazon
Jimi Hendrix – vocals, acoustic and electric guitars, bass
Dave Mason – 12-string acoustic guitar
Mitch Mitchell – drums
Brian Jones – percussion
"I'm like Bob Dylan. Neither of us sings in the accepted sense. We just be ourselves. Sometimes I do a Dylan song and it seems to fit me so right that I figure maybe I wrote it. I felt like 'Watchtower' was something I'd written, but could never get together."
–Jimi Hendrix in the liner notes to the 1993 reissue of Electric Ladyland
Q: How did you feel when you first heard Jimi Hendrix's version of "All Along The Watchtower?"
A: It overwhelmed me, really. He had such talent, he could find things inside a song and vigorously develop them. He found things that other people wouldn't think of finding in there. He probably improved upon it by the spaces he was using. I took license with the song from his version, actually, and continue to do it to this day.
–Bob Dylan to John Dolen, Fort Lauderdale Sun-Sentinel, September 29, 1995
"Initially there was no bass. Jimi just played 6-string acoustic guitar, while Traffic's Dave Mason played 12-string, and Mitch was on drums. That's how Jimi wanted to cut it. As a result, the track had a marvelous, light feel thanks to the acoustic guitars that were driving it. Jimi not only loved the lyrics, but also the chord sequences of 'All Along The Watchtower,' and he just gave them a terrific bed to do a nice solo. He also showed Mitch how to turn the beat around on the intro.
Dave Mason couldn't get it together and he was up to about take 20 when Brian Jones walked in. Actually, let me correct that: he staggered in. He was completely out of his brain. Poor Brian, he was a good mate of Jimi's and we all loved him. Jimi could never say no to his mates and Brian was so sweet. He came in and said, 'Oh, let me play,' and he got on the piano. It was take 21 and we could just hear, 'clang, clang, clang, clang, clang.' It was all bloody horrible and out of time, and Jimi said, 'Uh, I don't think so.' Brian was gone after 2 takes. He practically fell on the floor in the control room. Dear Brian …
It actually took about 27 takes to get the track going because Dave Mason couldn't get it together. But, eventually he did, and that was all that mattered. Jimi was driving the train. He always drove the train, whatever he was doing, and he had a magical ability, bar none, to take other people's material and make it his own. In fact, he also played bass on this track. When he said that's what he wanted to do, Noel pissed off to the pub. He didn't want to know."
–Eddie Kramer, Sound On Sound, November 2005
"I didn't play bass. I left again. I told Hendrix to fuck off."
–Noel Redding to his cat, the only sentient being that could tolerate his insufferable blowharding
"Noel got pissed off and was across the road in the pub, but the track didn't suffer. Jimi was a fine bass player, one of the best, very Motown-style. He was a very busy bass player. 'All Along The Watchtower' is a classic example of Hendrix's bass playing. He just had that touch."
–Mitch Mitchell in the liner notes to the 1993 reissue of Electric Ladyland
"Hendrix would stop the tape … and start overdubbing stuff. Recording these new ideas meant that he would have to erase something. In the weeks prior to the mixing … he would overdub the bass and guitar parts until he was satisfied. He'd say, 'I think I hear it a bit differently."
–Second engineer Tony Bongiovi in the liner notes to the 1993 reissue of Electric Ladyland. Several years later, Bongiovi would serve as producer for The Ramones' Leave Home and Rocket To Russia LPs.
"We'd keep doing tracks and each one would be better than the next one and he would never think that what he did was good enough. You're sitting there with 6 or 7 masterful guitar tracks, 5 or 6 great vocal tracks. I mean, it's very hard to pick for that guy. He was very stimulating to work with."
–Engineer Eddie Kramer in the liner notes to the 1993 reissue of Electric Ladyland
"After recording 'Watchtower' and listening to it, then you hear, only through somebody else's words, what you wanted to say. It's our own arrangement, though. We just used this solo guitar as different types of sounds. Like we used it as a slide and then a wah-wah and then it'd be out straight." Jimi set the Strat across his lap and ran the back of his lighter across the strings to get the slide effect.
–Jimi Hendrix in the liner notes to the 1993 reissue of Electric Ladyland
"I liked Jimi Hendrix's record of this and ever since he died I've been doing it that way. Funny though, his way of doing it and my way of doing it weren't that dissimilar. I mean, the meaning of the song doesn't change like when some artists do other artist's songs. Strange though how when I sing it I always feel like it's a tribute to him in some kind of way. I was thinking about him the other night. I really miss him a lot, him and Lennon. 'All Along The Watchtower' probably came to me in a thunder and lightning storm. I'm sure it did."
–Bob Dylan in the Biograph liner notes, 1985