Last November, my good buddy, Sean-Michael Yoder, wrote the first guest post in Adios Lounge history (Death and Renaissance in Smog City: L.A. 1978-85). Well, Sean is here to write the second guest post, a variation on the original theme (Los Angeles punk). However, this time he mainly focuses on 3 bands: X, Gun Club, and the Sex Pistols. This should be followed in fairly short order by a third post, tied thematically to this one. Don't worry, it'll all make sense at the end. As with "Death and Renaissance," Sean and I will engage in a Q&A after the post to see if we can leach the remaining nutrients from this brain drain. OK, nevermind my bollocks, here's Yoder.
–LD
Gun Club: Preachin' The Word, Pt. 1
by Sean-Michael Yoder
To me, the Sex Pistols were the ultimate fulfillment of the great '60s punk groups — insert your favorite here — the Word made flesh, so to speak. Back in the '60s, bands could only hint at the possibilities of total rock & roll abandon. But, along came the decadence of the late '70s and in the Sex Pistols there was the perfect balance of what filmmaker Julien Temple called "the filth and the fury," which the Pistols professed internationally, ratcheting it to nearly religious levels. Now, humor me here. If punk was a global, youth-driven, cult-like phenomenon, then I posit that it was in Los Angeles that the orthodoxy of the genre called punk — the spiky-haired, Vivian Westwood and Malcolm McLaren leather bondage version — was shaped into the collective memory of the past we all now share.
If you'll allow me to run with a religious metaphor, the SoCal artists were the Paulists of punk — devout followers evangelizing the foreign music of The Damned, Pistols, and (strangely enough) Sham 69 to their congregations. But, they were also shaping that music into their own vision by tapping into an already rich LA rock culture. The resultant noise of these early SoCal bands was sent into the world like Lenin on a sealed train car bound for Moscow. In my estimation, the big commercial success of punk came in the form of Nirvana almost 20 years after the fact and many music heads see Nirvana as the reason the punk spirit still lingers on long past its sell-by date.
Further examination of that era reveals that it was really just the end of the line for that form of musical expression and Nirvana happened to be the most LCD band for a culture softened up enough to accept it. The era preceding Nirvana, Seattle, and grunge was an extremely fertile period for punk-influenced bands and the big boys in the music industry could no longer afford to deny its customers bands like The Ramones, Minutemen, or The Stooges. Granted, there weren't any bands near that level of inspiration by the time the masses were getting hip to Sub Pop. So, the major labels scoured the underground for the last remaining bones of the dead looking for something they could sell and that's how we ended up with Green Day, Soundgarden, Red Hot Chili Peppers, and Pearl Jam. Next time someone tells you the '90s was a great decade for music, punch that person in the face for me.
Despite the inexplicable breakthrough of Nirvana, the grunge explosion was definitely NOT the Sex Pistols and didn't deliver the same promise of bringing the action back home so that any yahoo in your hood could start a real, living and breathing garage band. Sure, Nirvana wore the right clothes; the flannel was a holdover from the days of The Germs, as was the dope. But, those big arena tours were so disconnected from reality, Kurt Cobain doped out of his mind, looking bored and uninspired up on those big memorial dome stadiums.
There is nothing revolutionary about the live album From The Muddy Banks Of The Wishkah (1996). It sounds fat, bloated, and tired, as was every live performance I saw between '92 and '93. In comparison, even watching a terribly filmed relic of the Pistols in their prime is to feel the manic street preacher-isms of the early Christian church. Punk caught fire because the Sex Pistols tapped into everything before them — Ron Asheton playing like Don Helms playing like Rufus Payne — and focused that knowledge through a lens of white-hot sexual frustration. It was like the Alice Cooper Band turned up to 11.
If we connect the dots post-Sex Pistols, it's actually pretty easy to point to a few 1st generation bands from Los Angeles who went on to inspire the 2nd generation. These were the bands that canonized the gospel according to the Sex Pistols, Ramones, Stooges, and Runaways. Few of these 1st and 2nd gen punks ever made the news (in a good way) or provided a huge commercial splash, but they played an important role in society's de-evolution into the informal with Nirvana's left field, 3rd gen, mainstream breakthrough. Kurt & Co. also inadvertently brought about the collapse of rock music's vision in the 21st century, via 4th/5th generation Chaucerian hucksters like The White Stripes, Black Keys, and Strokes. This renewed interest has also brought capital with it, just check your local Hot Topic.
Not that hyper-commercialization is necessarily a bad thing, as once forgotten artists are slowly given backdoor mainstream approval like a finely-aged wine. If it took a Cobain to get you & I rapping about Jeffrey Lee Pierce, so be it. The Damned and Sex Pistols both came out west in the late '70s, the New York bands were finding their way into adventurous record collections, and the Runaways offered a local perspective. These factors coalesced and left behind bastard children with names like The Screamers, Avengers, Weirdos, Negative Trend, and Germs. From these original California apostles sprung The Effigies, Savage Republic, and everything else that came after, including Nirvana.
Out of all that "everything else," one band stands taller than the rest: Gun Club. It's no accident either. Their first two albums — Fire Of Love (1981) and Miami (1982) — featured superior musicianship in a form generally praised for its lack of ability. They were like The Police without the experience of an Andy Summers or the liability of a chump like Sting. Instead, the Gun Club had it's own resident chump — the pride of El Monte, Jeffrey Lee Pierce.
Pierce was a bellicose artist who guided the Gun Club through numerous incarnations that I hope to explore in further installments on the band. Not a lot of folks liked Jeffrey Lee. Former drummer, Terry Graham, says that he often imagined hitting Pierce in the face with a golf club and Bomp! owner, Suzy Shaw, described him as fat, mean, and worst of all (gasp!) a Monkees fan. But, outside of Hitler fronting the band for Fire Of Love, few people are going to split hairs about the personalities behind it.
Critics went apeshit way back in 1981 when Fire Of Love came out on Chris D.'s Slash Records offshoot, Ruby. Granted, Gun Club's mainstream competition at the time consisted of Joan Jett & The Blackhearts, The Go-Gos, and The Plimsouls. While all those bands would find commercial success, it was defective pop meringue in comparison to the meat & potatoes rock of the Gun Club. Underground contemporaries like Black Flag were out of the Club's league with regard to disciplined work ethic, as were The Blasters and Los Lobos in terms of mainstream acceptability.
That left X as Gun Club's only serious rock & roll rival at the time. In many ways, Gun Club's Fire Of Love is a love letter to X's Los Angeles (1980), released the previous year on Slash, but already three years in development on the live scene. It's not a coincidence that the respective album openers sound similar — "You're Phone's Off The Hook" from Los Angeles and "Sex Beat" from Fire Of Love — since X and Gun Club were feeding off each other. Both bands were trying to take American roots music out of mothballs and give it a healthy injection of the Sex Pistols. The aforementioned debut albums are now considered rock & roll classics, but one is a little more classic than the other.
Los Angeles is an album from the first wave of LA punk — the Masque bands, who were mostly from Hollywood. We're talking about a small, informal clique of bored and restless artists (and other malcontents) who started making live music happen at a time in the city's history that was all but illegal. Against great odds, Los Angeles, on the newly formed Slash Records, sold 50,000 copies. From that launching pad, X would get in the van and be one of the first local acts to take their message on the road.
But, Los Angeles was before all of that, so the lyrics are more about pure poetry than the road-weary bar tales that made up the bulk of X's later albums. Their music was an amalgam of styles coming from each of the players. Guitarist Billy Zoom was a session man in a long line of family session men. Zoom had played in funk, R&B, and rockabilly bands pretty much his whole life and was nearly 10 years older than the rest of the members of X, who themselves had a few years on the rest of the LA scene. By the time The Ramones and Van Halen hit Los Angeles, it was about fucking time in Zoom's mind and he was ready to find a band.
John Doe was ready to take Hollywood by storm and eventually did as an actor, screenwriter, musician, and poet. Same with Exene Cervenka, although she never had the movie career that John had. Exene has always been icy and distant, part of the band's lasting appeal. She and Doe were also the kind of careerists that kill bands slowly over time, which they did. But, they are also the kind of musicians who make a good band's early years so electric, and that they also did.
DJ Bonebrake is on my short list of greatest drummers of all time. How X got him is beyond me, other than the fact that if Donnie really wanted to play punk rock music, than X was a huge step up from playing in youthfully amateur bands like The Germs and The Eyes. He is the key reason X was one of the few bands to understand the Word that the Sex Pistols emanated. His steady hand translated well to us anglophobic teens raised on the FM dial in a way that was visceral and felt like it lived next door to us.
X – Your Phone's Off The Hook
Los Angeles, 1980
Amazon
And that's where "Your Phone's Off The Hook" and "Sex Beat" differ – the former, a fellow travelers' song about the difficulties that surround the bohemian lifestyle, the latter a straight-up song about fucking.
Gun Club – Sex Beat
Fire Of Love, 1981
Amazon
Punk isn't known for sex. The Cramps and Fang leap to mind, but that's more on a men's magazine level. There is an ugly darkness concealed in the grooves of Fire Of Love, darker and more street level than anything on Los Angeles. Chris D. drew upon Jeffrey Lee's voodoo mojo for the Flesh Eaters' A Minute To Pray, A Second To Die (1981), but curiously, he left out the sex. And Fire is not the sexual dysfunction of the first Violent Femmes album, either. It's about something intangible, wholly other. The Doors touch upon it on Strange Days (1967) and Tool does a good job of capturing what I call the Hollywood rock scene's PTSD vibe in the lyrics to "Cold & Ugly":
"Underneath her skin and jewelry
Hidden in her words and eyes
Is a wall that's cold and ugly
And she's scared as hell
Trembling at the thought of feeling
Wide awake and keeping distance
Nothing seems to penetrate her
She's scared as hell"
–Tool, "Cold And Ugly," 1991
It was that little dark sexual surprise that a lot of us punk kids took note of back in the day. There's a certain seriousness in Gun Club that a writer (I think it was Pleasant Gehman) once described as equal parts Raymond Chandler, Santería, and Darby Crash. I later discovered Pierce was simply revealing the darkness that lives just below Hollywood's Tinseltown veneer with the songs on Fire Of Love. These songs were forged in that darkness in a post-Sex Pistols maelstrom, the antidote from the relatively benign peace & love message of disco in the late '70s. That break in cultural reality went a little something like this, everyone else following the Sex Pistols' lead:
"Fuck this and fuck that
Fuck it all and fuck a fucking brat
She don't wanna baby that looks like that
I don't wanna baby that looks like that
Body, I'm not an animal
Body, an abortion"
–Sex Pistols, "Bodies," 1977
The Gun Club followed the same arc as X, selling enough albums for Slash/Ruby, that they essentially built the independent distribution network overnight — helped along by the first albums from Black Flag and Minutemen on SST. As a result of limited commercial success, but resounding critical approval, Gun Club was extremely popular back east and moved to New York to make their next album Miami. They cut it for Blondie's Chris Stein and Deborah Harry and their new label Animal Records.
Miami was nothing like X's second album Wild Gift (1981), which was composed of songs the band had been honing for four years and again produced by Ray Manzarek, who was doing his best to make the band into the new Doors. However, he gave the band a lot more room to breathe than on Los Angeles and given a chance to assert their own identity, X came up with a fucking masterpiece in "Universal Corner."
X – Universal Corner
Wild Gift, 1981
Amazon
I believe this song was a sign that X was being tugged at by their two main competitors on the Hollywood scene: Black Flag and Gun Club. X had too many egos to end up being swayed by either camp and always remained in the middle of both extremes before the roof fell in after Zoom's 1986 departure. But, listen closely and you can hear that the foundation of the track is slow and chunky, much like the new SST style. It also hints at the first wave of Seattle grunge just a few years down the road while trying their hand at Jeffrey Lee's darker, more sexual lyrical style. While not as overt as, say, "Jack On Fire" from Fire Of Love, "Universal Corner" has some coy entendres that stay true to John and Exene's more playful lyrical style, with Exene cooing the phrase, "like a woman," to each of John's lines in one big come-on:
"She lets you in on her biggest secret
(Like a woman)
She wants a man who knows all the right places
(Like a woman)"
On Miami, Gun Club didn't present as many originals as X. Instead, they disguised any songwriting deficiencies by going rootsy, with tasteful covers of Creedence's "Run Through The Jungle," the traditional "John Hardy," and Jody Reynolds' rockabilly classic "The Fire Of Love," from whom the Gun Club had borrowed the name for the title of their previous album. But, it was the album's opening track, "Carry Home," that best defined the original Gun Club line-up of Jeffrey Lee Pierce (vocals, guitar, piano), Ward Dotson (guitar), Rob Ritter (aka Rob Graves, bass), and Terry Graham (drums).
Gun Club – Carry Home
Miami, 1982
Amazon
The song isn't really a cover version, and certainly not a murder ballad, but the opening lines suggest the same willow garden motif found in the Irish traditional, "Rose Connolly." It was probably the popular versions by Flatt & Scruggs and also The Everly Brothers — who recorded it as "Down In The Willow Garden" on their own rootsy album, Songs Our Daddy Taught Us (1958) — that drew Gun Club to this song. Pierce was never one to shy away from stealing from artists he admired, with sly lyrical references that always stopped just a little short of outright theft.
Couple that with Ward Dotson's weird combo of Scotty Moore and Robert Johnson licks on this record and it was difficult to tell whether Gun Club was making it all up or very cleverly stealing their sound from Dave Alvin's wicked 78 collection. How many punk bands of the era included a pedal steel on their new album's opening track? If Black Flag's My War album was the indicator in 1984 that real rock music was about to get a lot slower, than Miami in 1982 was the sign that it was also going to include cowboy hats and Nudie suits.
This push-pull of contemporary and historic influences meant there was less "Mystery Train" on Miami, with the band rooted more in their own decade rather than the timeless Faulknerian period that the band occupied for Fire Of Love — and prior to that as Creeping Ritual. The vocals and guitar on this album are very prominent and fans of the first album cried foul over the lackluster production. But Miami is an album that requires repeat listens to hear the jazz and funk influences of Detroit-born bass player, Rob Ritter, underpinning the tinny sounds up top.
The one thing I have noticed over the years assessing and reassessing Miami is how great the drumming is by Terry Graham. He's from the same less-is-more school as W.S. "Fluke" Holland and would have made a fantastic session drummer in Memphis or Nashville. Unfortunately, his cymbal work and complex fills are lost in the bleed-over from Pierce's vocal track and the close-miked guitars. Miami wasn't the first album from the punk era to suffer from poor production, but it wasn't something lost on Jeffrey Lee, who made sure the band's next two releases would receive the full studio treatment. Each of those records revealed previously unheard Gun Club-isms that the various incarnations and bad production simply couldn't expose, all set against the backdrop of the Sex Pistols' prophecy fulfilled.
With that in mind, here's a video from October 1982 that will serve as a transition to my next post. It's the Gun Club playing a trio of songs in Paris, albeit without Rob Ritter, who quit the band the previous August to join 45 Grave. Ironically, he was replaced on bass by his (and Graham's) former mate in The Bags, Patricia Morrison.
Gun Club in Paris
Theatre Le Palace
October 7, 1982
Run Through The Jungle
Carry Home (incorrectly listed as I Have Returned)
Sex Beat
CONVERSATIN': LANCE DAVIS & SEAN-MICHAEL YODER
LD: First off, great job, dude. That was a quality read. There are a few points of contention, but before we go there, I just appreciate that you presented a point of view that rarely gets discussed. People may talk about X, but exponentially fewer talk about Gun Club. Then, discussing the relationship between the two? Fuggedaboutit. But, let's start with the Sex Pistols, since that seems to be your ground zero. Why the Pistols and not The Ramones, or The Damned, who were actually the first British punk band to play LA?
SY: Revisionist theory has put The Ramones at the top of the pecking order. 15 years ago it was The Stooges. Yet another case of journalists feeling sorry for having their heads parked firmly up their rectums when the music actually happened. Then they go overboard trying to annoint specific heroes, The Ramones being one. It's typical consumerist bullshit, winners vs. losers.
Don't get me wrong, I love The Ramones and listen to them weekly, but they didn't offer the critical or street-level breakthrough that the Pistols did. The Damned made two great records and then a whole bunch of REALLLY terrible ones. They may have gotten there first, but they didn't have the stamina to run with the beast. In many ways, The Ramones and Damned have similar story arcs broken into three distinct eras: 1) The new arrival phase, 2) The outdone by our competition and we're really bitter about it phase, and 3) The flabby golden years.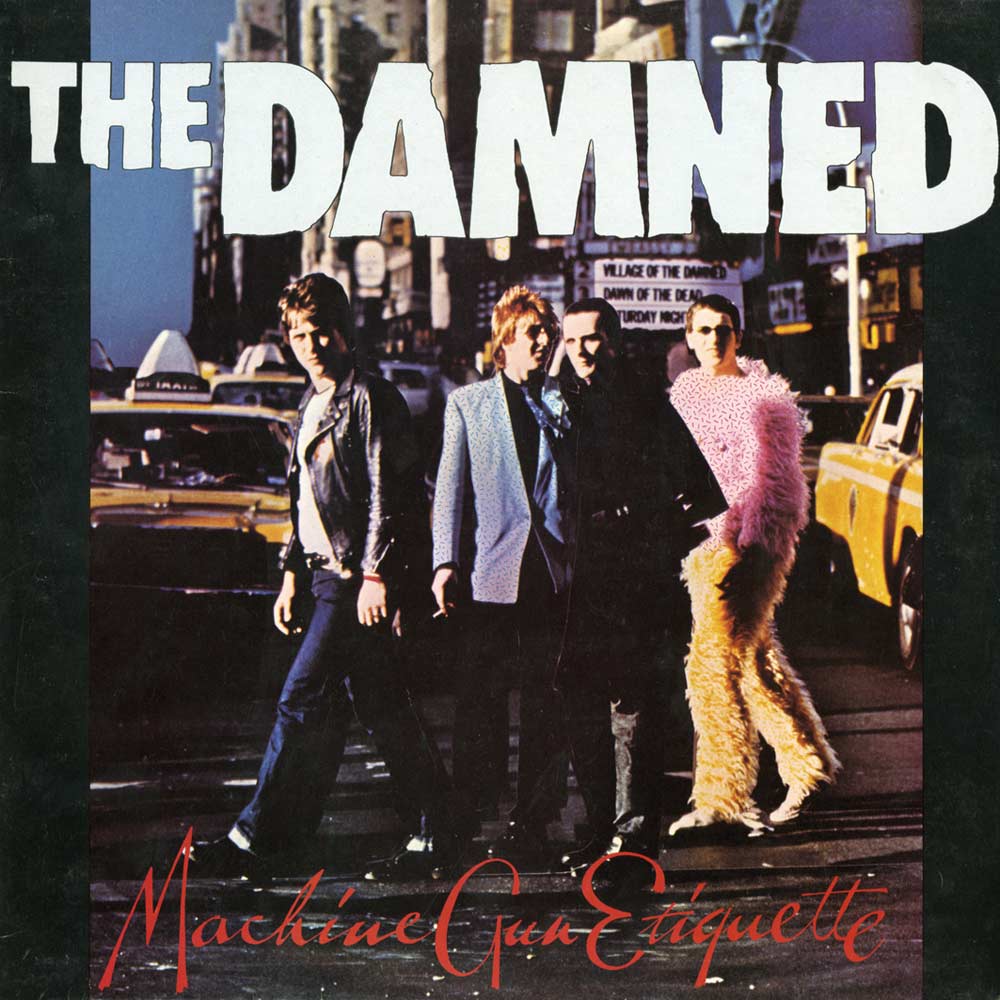 The Damned only indirectly influenced history and definitely didn't reach across genres in terms of influence like The Ramones and Pistols did. If The Ramones' sin was arriving on the scene too early with the double whammy of also being from NYC, then The Damned are guilty of being not that great. Compare them to The Jam or even The Clash, not even in the same league, especially after Machine Gun Etiquette (1979). The Damned are in the same league as Generation X or The Adverts (i.e. the farm leagues).
The Pistols never even played in LA. McLaren intentionally skipped Hollywood and went straight for SF because he was smart enough to know it was lights out. But, every city the Pistols played in on their ill-fated American tour started a scene. The Ramones rarely played anywhere but LA, New York, Boston, and London until the third record, AFTER the Sex Pistols came roaring through. The Damned opened for Televison, a terrible billing if there ever was one. I think the only place that really got The Damned on that tour was LA when they played at The Starwood. By the time they came through again, it was post-Pistols and bands in LA were making records that sounded just like "New Rose," so it was too late.
LD: Sheesh Yoder. I wish you'd have an opinion already instead of trying to please everybody.
SY: Lol. My wife calls it my rock & roll high horse.
X – We're Desperate
From The Decline Of Western Civilization, 1981
Director: Penelope Spheeris
LD: Heh heh. One thing the Pistols had going for them that you hear in so many LA punk bands was that sense of "fuck it and fuck you." X brilliantly tapped into that on "We're Desperate." By contrast, The Ramones were cartoons more or less divorced from reality. Don't get me wrong, it's an exceptional fucking cartoon, but you didn't get the sense that they were desperate and angry. I think that's the umbilical cord that not only connects the Pistols to the LA punks moving forward, but also to The Stooges and MC5 going backward.
SY: Totally spot-on assessment. A kid growing up seeing The Standells at the Whisky is going to get the Pistols right away. In a sense, they already had it with The Runaways, but no one was or ever will take a Kim Fowley pussy package 100% seriously. The Pistols brought all the elements together.
LD: What do you make of the anti-Pistol brigade who dismiss the band as McLaren puppets who couldn't play, couldn't write, and were basically fraudulent?
SY: Clash fans probably lol.
LD: Haha. Though, I'm assuming you're a Clash fan.
SY: Bigtime Clash fan, but I have my qualms with them. Less so with the Pistols. I have noticed that the anti-Pistols crowd tend to be an anti-rock crowd as well, seeing punk as a way to tear down the system. The flaw in that logic is what has muddied punk ever since. Punk was very anti-hippie, anti-save the world, etc. It was reactionary in terms of worldview. That was because the good bands were too busy being good bands to care about saving and/or nuking the whales.
The Pistols are going to seem pretty quaint if being down with the Sandinistas is your thing. It's a slippery slope. Before you know it, you turn out to be a fan of shit bands that have zip to do with rock, like Crass, or worse yet, the E Street Band. Rock is never pretty and usually there is a Colonel Tom Parker pulling the strings to keep those ugly, but talented toglodytes from killing themselves, each other, or innocents.
LD: "The good bands were too busy being good bands to care about saving and/or nuking the whales." That's gold right there. I think there are some notable exceptions, but they're exceptions for a reason. The Minutemen and Public Enemy were able to be legitimately political, but also bring the noise on stage. Actually, I think it's easier to be a voice of the working class than some dubious liberal (or conservative) mouthpiece.
So, Merle Haggard, John Fogerty, and D. Boon carry more political weight with me than guys who are known for being political, be they musicians I admire, like John Lennon, or guys who fucking frustrate me, like Springsteen. BTW, you know why I don't need some east coast Boss? Because I have motherfucking root down Californians like Hag, Fogerty, Boon and Watt, Dave Alvin, and John Doe all writing songs that speak my language.
SY: I feel your pain. I feel like the lone sniper in the clock tower sometimes when it comes to Bruce. I get it if you are from one of those mid-Atlantic states like Delaware. The Boss is going to be a big part of your life. But, I live in California. We have no need for a boss out here and anybody who thinks otherwise is high — or should be.
LD: As I said, I have Merle Haggard and Dave Alvin. I don't need someone else's Boss.
SY: Testify, brother, testify! I am so with you on that. The Minutemen were slyly political. The rock was always first and foremost. It never took a backseat to any sort of grandstanding. That's what I love about the SST bands, especially The Minutemen. I don't necessarily equate questioning authority with being political, it's just good sense to do so. Lennon's politcal album is a big pile of shit. So was David Peel's band. Excuse me while I puke.
Personally, I love the way the Pistols skirt around the political. They might be Nazis on "Holiday In The Sun." They hate the Queen, New York, and their former record label. We're unclear on their stance about abortion and the anarchy doesn't seem like anything more than teenage hooliganism. Same could be said of just about any biker rock band, from AC/DC to The Allman Brothers. No soapbox derby going on there.
LD: Which bring us back to X and Gun Club. Where GC seems almost defiantly apolitical, X's politics didn't particularly evince themselves on those first 2-3 albums. I mean, if you were in that scene you knew where they stood, but in a vacuum they were just a kickass rock band. I think that's to their credit.
SY: If you think about it, Bukowski isn't really political, but you know where he stands, too. X borrows heavily from Bukowski. Plus, you add in the being married angle and there is heavy-duty romanticism, as well. GC was politically incorrect, songs about raping, killing, and fucking. Jeffrey Lee was coming from more of a Jim Morrison headspace than a John & Exene one. I'm not sure how much lyrics matter anyway if you don't have some good playing to back them up, which both bands had. Then it matters.
LD: I'll take so-so lyrics and a shit-hot rhythm section over supposedly great lyrics and a so-so rhythm section everytime, and twice on Sunday. Obviously, if you can get both, you take it, but that's so rare. I think X is a perfect example of every element being rock solid. Even a musical weak link like Exene's voice totally and completely works in the context of the band.
Gun Club is unique in that they're not as accomplished of players as X. However, if there's one part of the band that's overlooked in historical context it's the importance of Rob Ritter and Terry Graham playing together for years, first in The Bags and then Gun Club. I think that made Jeffrey Lee's job — and to a lesser extent, Ward Dotson's job — a LOT easier. Neither guy needed to be a great guitar player because the bass and drums were just flat-out locked in. That said, Dotson's guitar playing sits on top of the rhythm section so well. You compare him to Scotty Moore and Robert Johnson, but I think — in terms of blues anyway — he's more of a slasher like Hubert Sumlin (Howlin' Wolf) or Ike Turner than he is RJ … though he incorporates those slide licks, which probably go back to Johnson (or Charley Patton).
SY: Fantastic assessment of Gun Club's players. I stand corrected about Dotson's playing after listening to some old Pontiac Brothers records to really delve into his style. You're right, he's a slasher. I had never considered Howlin' Wolf as an influence because Dotson's always yapping on and on about Scotty Moore in every interview he's ever done. It's a smokescreen, lol.

Gun Club – Cool Drink Of Water Blues
Fire Of Love, 1981
Amazon
LD: Well, he incorporates Sumlin's "Smokestack Lighting" riff in "Cool Drink Of Water Blues," which of course was recut by the Wolf as "I Asked For Water." I have to think Howlin's version is considerably more popular than the Tommy Johnson original. Actually, that reminds me that Jeffrey Lee totally lifts Tommy's bluesy yodel howl in his singing, but you could argue that he was also paying homage to the Wolf, who lifted that same vocal tic from TJ. I'd be curious if Lucinda Williams stole that from Johnson, Wolf, OR Pierce because she was in LA during Gun Club's original prime and had to be familiar with JLP.
As an aside to the aside — because that's what I do — the killer Austin punk-blues band, Jack O'Fire, not only named themselves after the Gun Club song, but the leadoff track from their lone album, The Destruction Of Squaresville (1994), was — drum roll please — "I Asked For Water."
SY: If Billy Idol was ripping off JLP ("White Wedding" = "Carry Home"), you gotta figure much cooler people were at least having their blues loins rekindled. "Cool Drink" also has that weird creole influence, too, like Clifton Chenier, who JLP idolized. The more I get to know GC, the more I think, "What a weird band." By the way, I had to go back and investigate The Destruction Of Squaresville and I am wondering how I missed all of that the first time around. Great connections.
LD: Yeah, Jack O'Fire included Tim Kerr from The Big Boys, Monkeywrench, etc. and Walter Daniels, who later joined Big Foot Chester, a name which was itself an homage to Howlin' Wolf. Great, gutbucket punk blues.
SY: Tim Kerr has been plugged into what's good since he fell out of his mama it seems like.
LD: Pretty much. And even though he's been relatively quiet on the playing front this century — feels weird writing that — he produced one of my favorite punk/rock/folk bands, The Dexateens from Tuscaloosa, Alabama. Roll Tide.
SY: Being old will definitely diminish your output. Good to hear he's shifted his focus to producing quality new bands.
LD: Of course, that brings me back to your post. I think the kinds of musicians and bands who made the '80s special weren't too terribly removed from the musicians and bands who made the '90s special. That is, underground artists who more or less didn't achieve much fame — there are a few exceptions — but stayed tapped into the source. For example, Uncle Tupelo combined country and punk, covered Creedence and "John Hardy," and mostly stayed underground. Sound familiar? Granted, their 4th and final album came out on Warners, but then they broke up, so the indie/major dichotomy didn't really have time to take root.
Elsewhere, bands like Fugazi and Superchunk showed how you could stay true to your indie roots — even if the Chunk's music went a little too twee by the end of the decade. (Fortunately, they went back to the sound that really worked these past few years.) Whether it was Screaming Trees/Mark Lanegan, early/mid-period Built To Spill, mid-period GBV, Alejandro Escovedo, Flat Duo Jets, The Neckbones, Blue Mountain, Prescott Curlywolf, shit even Neutral Milk Hotel, there was a lot of quality music being made outside of the mainstream in the 1990s, you just had to know where to look and listen. And that was a holdover aesthetic we learned in the '80s.
SY: Nirvana brought the whole history of punk to light with their breakthrough. Every generation and every regional scene from the punk era got a second shot at sainthood. Although, I do have to say Mötley Crüe, Guns N' Roses, and Metallica did a fair job of exposing kids to The Sex Pistols, New York Dolls, and Misfits. Henry Rollins and Jello Biafra are always floating around out there on the outer fringes of mainstream cool. And last I heard some folks are still worshipping that little 'ol band you mentioned called Fugazi. But, none have the length and breadth of Nirvana — from Pat Smear joining the band to the songs and guests chosen for Nirvana's unplugged session. Nirvana posed some Galileo type questions to the rock journalism hegemony and that was good, but they flamed out way too fast for fans and scholars to figure out whether they were a great band or just a decent one with the right collection of songs at the right time.
LD: Right on. I am gonna disagree with one specific point in your post, though. I saw Nirvana on April 9, 1993, at the Cow Palace in San Francisco of all places. It was a benefit for Bosnian rape victims and they sounded neither fat, bloated, nor tired. In fact, what I loved about the performance is that In Utero (1993) was in the can, but not yet released. So, they came out, played most of the hits, then started In Uteroing the audience, who were mostly kids and not amused. So, where I started out a good 300 feet from stage, by midway through the set, the audience had cleared out such that I was 20 feet away and feeling Grohl's huge kick drum right in my chest. The band totally got after it and put on an amazing show. Definitely a highlight from that era.
Of course, I also saw their very last performance on American soil. January 8, 1994, at what was then called Seattle Center Arena. You know how disconcerting it is to hear 15,000 teenage girls screaming, "RAPE ME!!!" Very. The answer is very.
SY: That is a fucking great story!! Unfortunately, I saw them at The Forum right before the end. The only thing memorable that night was a very drunken Eddie Van Halen backstage confused as to whether Pat Smear was, and I quote, "A nigger or a beaner." That show left a very negative impression on me about Nirvana and rock music in general. I am so not surprised that Grohl turned into such a lightweight. I'd want to avoid that dark place, too. There was a lot of dope flying around and just general seediness eating away at the band and their enormous talent. Amazing that we have two different stories from the same time period. Rock & Roll Rashomon.
LD: Oh Lord. Fucking Eddie Van Halen producing the kind of eruption that NO ONE wants to hear. Lame. I think I remember you telling me that story before. I must've buried it in my subconscious, not wanting to remember it/believe it. BTW, was that the same show where Pat played the opening bars of "Richie Dagger's Crime?" (You can hear "Richie Dagger" in the Adios Lounge post, LAMF: A Study in Rock 'n' Roll DNA.)
SY: Sure was. I love Pat and his woman, Jena (Cardwell), by the way. Two of the greatest people LA has ever produced. I never thought I'd like Queen until Pat learnt me.
Joan Jett & Nirvana – Smells Like Teen Spirit
Rock and Roll Hall of Fame Induction Ceremony
April 10, 2014
LD: Nice. I think the coolest thing, by far, about Nirvana's RnR HoF induction was Joan Jett reuniting with Pat to play "Teen Spirit." It wasn't cool because it was the anthem, it was cool because it represented that continuum I'm always talking about: The Runaways to The Germs to Nirvana. Full circle. And yes, pun intended.
SY: Full circle indeed. Pat's influence on the band as mentor was huge and almost entirely unspoken.
LD: And from one influential member of The Germs to another — albeit temporary vs Smear's permanent status — completely and totally agree about DJ Bonebrake. He's a fucking badass. Heavy, but fluid, and far more musical than he's given credit. You can actually hear that sense of musicality on drums and vibes, particularly that famous clip in The Unheard Music (1986). He's a punk rock Max Roach.
SY: DJ Bonebrake's marimba playing on A Minute To Pray, A Second To Die (1981) — I am still in awe.
LD: The lineup on that album is fucking unreal. (Players include Dave Alvin, Bill Bateman, and Steve Berlin from The Blasters and John Doe and DJ Bonebrake from X.) But, getting back to Gun Club, when you listen to both Fire Of Love and Miami, what do you think Miami brings to the table that Fire does not?
SY: Miami often gets compared to The Soft Parade (1969) by The Doors, albeit with a pedal steel. Fire Of Love really comes out of left field with its blues and rockabilly influences. I didn't know about that shit the first time I heard the album, it sounded like voodoo to me. Still does, especially after I found out about Gris-Gris (1968) by Dr. John and figured out Jeffrey Lee was just ripping that album off … IN A PUNK ROCK STYLE. Who does that? There sure weren't any contemporary English bands doing that. You have to be a serious music fan to fully grasp Fire Of Love. That Miami might be perceived as a letdown after such a brilliant debut is totally understandable, it's not going to grab you with songs like "For The Love Of Ivy" or "Sex Beat." If that's what you are looking for, Miami is going to be disappointing.
LD: Hmm … I never thought about FOL as a descendant of Gris-Gris, but that makes sense. Obviously, The Cramps were in that neighborhood as well. With Miami, I think Ritter and Graham are the musical anchors, so the fact that the original release buried them in the mix was a HUGE mistake. I think the last song, "Mother Of Earth," is interesting in that it betrays a country influence that would later show up in The Sadies (both with and without John Doe). Very cool.
Gun Club – Mother Of Earth
Miami, 1982
Amazon
SY: Miami is dark, subtle, and mournful. The songs are memorable and it really grows on you a la Double Nickels On The Dime (1984), always revealing new things each time you listen. That's a sign of a great album. The cover of "Run Through The Jungle" is amazing and the musical directions explored are still out in front of the competitors by light years. The closest, in my opinion, JLP came to this kind of perfection again is on his Wildweed (1985) solo album between The Las Vegas Story (1984) and Mother Juno (1987).
LD: A comparison to Double Nickels is heady stuff. I'm not sure I'd put it in that stratosphere, but I get what you mean. BTW, I think the steel you hear on "Carry Home" is actually Dotson on slide, but I could be wrong.
SY: Let me preface that by saying I was in no way making a direct comparison to Double Nickels. That's like comparing Goodnight Vienna (1974) by Ringo to Revolver (1966), lol. Just trying to make the point that few punk albums reveal themselves as fully if you listen closely and enough. The list is maybe 10 records long and I believe Miami is one of them.
LD: Haha. Fair enough.
SY: And you're right, I stand corrected. Mark Tomeo only plays steel on "Mother Of Earth" and "Texas Serenade." Miami also has the song "Devil In The Woods," which is also the name of the cassette label run by 28th Day drummer, Michael Cloward. The Downsiders used to cover "Promise Me" live. Mr. Joel Valder has some good video up on YouTube. Chico was a paisley underground kinda town back in the day and Miami was a huge influence on the good local bands. I think that is where my love affair starts.
Downsiders – Promise Me
Burro Room, Chico, CA
October 1989
Video Recording: Joel Valder
LD: I always thought Chico bands were, as a rule, a little too in debt to R.E.M., but you're probably right that it was a paisley outpost as much as Athens West.
SY: R.E.M. is the Springsteen of the underworld. They were as hard to avoid as herpes if you lived in any American college town from 1985-95. New Order, too. I never thought the local bands had quite enough rock, a few exceptions of course. Seeing L7 at The Burro Room was a real game changer for me. I wanted to move to LA immediately and escape Athens West lol.
LD: Ahhh so it wasn't just me. I like those early R.E.M. records well enough, but I never really understood why they, of all bands, became this generational touchstone. Probably because they were just rock enough to be considered rock, but safe enough that they were able to crossover to the mainstream. And as far as the paisley bands go, once you swallow the Days Of Wine And Roses (1982) pill, it's hard to take softer bands on that side of the fence too seriously, you know?
SY: That's what I'm sayin'! Another band on Slash/Ruby, too.
LD: Is that right?
SY: That album was. Slash and Ruby were on fire back then.
LD: Jesus, I'd say so. Talking about Dream Syndicate, Gun Club, X, and the other LA bands we've mentioned here — and the previous post — puts an exclamation point on the fertility of the scene. Sure, the best bands in NYC, Athens, Austin, Minneapolis, Seattle, etc. could probably stand up to the best LA bands, but the sheer depth of talent here from the late '70s through the early '90s was unsurpassed in the post-punk era.
SY: What's the old saying, a mile long and an inch deep? The other scenes keyed off of Los Angeles and had a few key bands that were as good as any other great bands in the world. But, in LA it was a mile long and a mile deep, the diversity from that era is stunning and the quality of players is unsurpassed. But, it was more than that, their art spilled over into movies, the art world, media, literature. Punk turned the city upside down.
LD: Word. On that note, why don't you give me a little preview of the next Gun Club installment.
SY: Funny you should mention that, I started jotting down some notes to work from starting this weekend. In the next installment I am exploring the period when people forgot about Gun Club, when they were out there on their own making music for no one but themselves and other musicians. In my opinion, the Death Party EP (1983), The Las Vegas Story, and Jeffrey Lee's solo album, Wildweed — all from the mid-'80s — stand as Gun Club's finest work. But, in a lot of ways this period is reminiscent of White Light/White Heat (1968) in that the band is purposely trying to alienate you from their music. You've got to be patient, but if you listen deeply enough, songs like "Secret Fires" and "The Girl On Highland Avenue" will change your life. It's a huge payoff and one I wish I hadn't put off for 20 years.
LD: Awesome. Looking forward to it, brother. And thanks again!
SY: Thanks to you, too.