The Byrds entered 1971 heading in opposite directions. As a live unit, there's no question that the band was at its career apex. The Clarence White-Gene Parsons-Skip Battin rhythm section was borderline monstrous. If anything, Roger McGuinn was the musical weak link, a disturbing trend that would replicate itself in the studio. I will diatribe later about McGuinn's abandonment of the songwriting and bandleading process. However, let's focus on White's 1971, a promising and underappreciated year of achievement.
KENTUCKY COLONELS REUNITE
On the evening of January 15, the Kentucky Colonels reunited at Clarence's house, the first time the original group was together since flirting with folk-rock back in the fall of 1965. Sadly, Scotty Stoneman couldn't make it, but Byron Berline ably sat in on fiddle. Yeah, life's pretty good when Byron Berline is your Plan B. I kept the pre-song banter because I think the nervous energy is palpable.
Kentucky Colonels – Shuckin' The Corn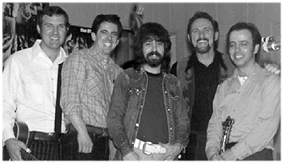 L-R: Leroy "Mack" McNees – dobro, vocals
Roger Bush – bass, vocals
Clarence White – guitar, vocals
Billy Ray Latham – banjo, vocals, great bio, check out that link
Roland White – mandolin, vocals
(Not pictured: Byron Berline – fiddle)
Kentucky Colonels – Shuckin' The Corn
Nervous energy meet freight train of bluegrass. Roland kills it on mandolin and little brother Clarence is right with him. CW sounds like he's capoed way up the neck, so his guitar (1:27-1:36 and 2:05-2:15) acts like a second mandolin. And yet, I can't decide if Mack's dobro (1:17-1:27) or Latham's banjo (1:37-1:56) is my favorite part of the performance. Stunning. And that's just the first song.
On the original cassette from which this bootleg matriculates, Leroy McNees is said to have typed: "It was the first time together in six years and the last." Clarence's death in 1973 was lamentable for many reasons, but that it effectively closed the book on the Kentucky Colonels remains a minor tragedy. The original Colonels, for all of their individual influence, virtuosity, and Hall-of-fameocity only enjoyed 2-3 years of sustained greatness: 1963-65. The bluegrass festival circuit that would've nourished their reputation, legacy, and pocketbooks was in its infancy when the window closed, so they never enjoyed a second wave of semi-popularity. Damn shame.
BYRDMANIAX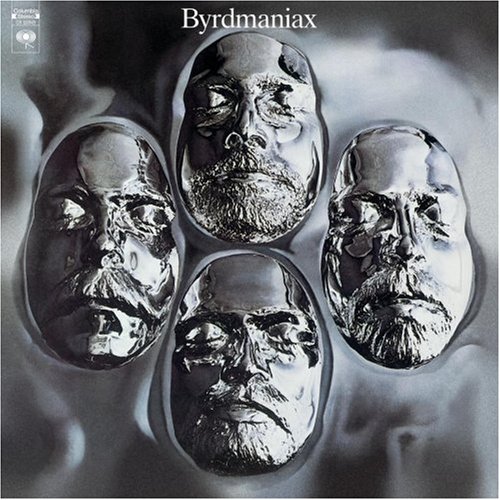 The Kentucky Colonels reunion actually occurred against the backdrop of the Byrdmaniax sessions, which took place throughout January. This is when The Byrds went in the opposite direction of monstrous. While the formal dust-up regarding this album came during mix and production — ye olde Melcher's Folly — it's not like McGuinn and cohort came strutting into the studio with a highlight reel. There was nothing Terry Melcher could've done as producer or band manager, short of mass hypnosis, that would've disguised this turd taco. Unfortunately, Melcher did not opt for hypnosis. He opted for the "Children Are Our Future" backup singers.
Byrds – My Destiny
Byrdmaniax, 1971
Amazon
Byrds – My Destiny
I think "My Destiny" is one of the few hidden gems on Byrdmaniax. Clarence doesn't have a very good voice yet, but by the time he hits that last chorus, he's singing his ass off. I actually think the production is understated, especially relative to the rest of the album. It certainly isn't any more gussied up than other mainstream country songs of the era. Would it help if I said that Sneaky Pete Kleinow was playing the pedal steel? That it was written by Helen Carter of the Carter Family and covered by both Johnny Cash and Wanda Jackson in the 1960s? And that when Helen died in 1998, Marty Stuart — caretaker of Clarence's B-Bender, btw — sang "My Destiny" at her funeral?
My love for CW noted, "My Destiny" shouldn't be the fifth best song on any album. At heart, it's a deep cut, meant to be surrounded by better songs that elevate its status by relation. But those other, better songs are on a different Byrdmaniax in another universe where folly is not an option.
Melcher's Folly
http://youtu.be/IOI50teKKro&w=560
I'm certain most of what Parsons says is true. Byrdmaniax certainly suffers from Melcher's production choices, no doubt fueled by heroic cocaine and booze consumption. But, like I said earlier, it wasn't like McGuinn gave him a stack of gold records in-waiting. If anything, Rog left songwriting duties to others: Battin, White, Parsons, Jackson Browne ("Jamaica, Say You Will"), and Art Reynolds ("Glory Glory"), the same guy responsible for "Jesus Is Just Alright." In that sense, Byrdmaniax was like a poor man's Ballad Of Easy Rider, which also featured mostly non-McGuinn material, but that material was better and more tailored to the talent on hand.
And they couldn't even get the bluegrass song right.
Making of Green Apple Quick Step
http://youtu.be/IR-RHm4w3XE&w=560
"My Destiny" and "Green Apple" are highlights on an album with few. I think another hidden gem is McGuinn's "I Trust" … though you might have trouble believing that if you only heard the version on Byrdmaniax.
Byrds – I Trust (Excerpt)
Byrdmaniax, 1971
Amazon
Byrds – I Trust (Excerpt)
Is there anything about those 17 seconds that makes you wanna hear the previous 3 minutes? This is why arrangement and production matter. The album version sounds like it can't wait to turn into a Foreigner video. Those choral backup singers? Awful. Even Clarence's playing is perfunctory. The song itself is pretty good and easily McGuinn's best offering on the album, not that that's saying much. However, hearing "I Trust" in concert is a revelation. This is what Byrdmaniax could've been. An album that reflected the dynamic and occasionally ferocious live act.
Byrds – I Trust
Royal Albert Hall, London
May 13, 1971
Buy CD/MP3 on Amazon
Buy Vinyl/CD on Sundazed
Byrds – I Trust
This version from the consistently excellent Live At Royal Albert Hall album jumps out of the speakers. White (panned right) unleashes his usual spectacular twang, Parsons and Battin push, fill, and prod the folk ballad into rock territory, and McGuinn sings as if his balls were on fire. Who knows, it was the early '70s, they may have been. From about 1:06-1:30 and during the shitkicker reprise from 3:33-4:13, Clarence is as perfect a sideman and sololist you'll hear from this era. Any era, really.
Byrds – Jamaica, Say You Will
Royal Albert Hall, London
May 13, 1971
Buy CD/MP3 on Amazon
Buy Vinyl/CD on Sundazed
Byrds – Jamaica, Say You Will
Clarence sings lead on "Jamaica," a Jackson Browne tune that appeared in inferior form on Byrdmaniax. I like Clarence's vocal here substantially more than on the album and Gene's drumming and Levon Helm-esque background vocals are very sympathetic. Not crazy about McGuinn's falsetto, but all things considered this is a solid rendition.
Byrds – Mr. Spaceman
Royal Albert Hall, London
May 13, 1971
Buy CD/MP3 on Amazon
Buy Vinyl/CD on Sundazed
Byrds – Mr. Spaceman
"Mr. Spaceman," of course, goes back to 1966's Fifth Dimension album and holds a special place in Byrds lore for being their first country-rock song, predating "Time Between" and "The Girl With No Name" by 6-7 months. And I didn't say country, because I know they took a shot at Porter Wagoner's "Satisfied Mind" in 1965. "Spaceman" was originally dumbed-down Buck Owens, but White smarts it up here with his mesmerizing playing, especially in the first verse, from 1:09-1:29, and during the outro. Which is to say, the whole damn song.
FYI, I've included purchase links to Sundazed Records because they kickass and deserve support. Check 'em out for sweet package deals on all manner of garage rock, hot rod, surf, country, pop, psych, etc.
EARL SCRUGGS
Byrds & Earl Scruggs Revue – Nothin' To It
Amazon
Byrds & Earl Scruggs Revue – Nothin' To It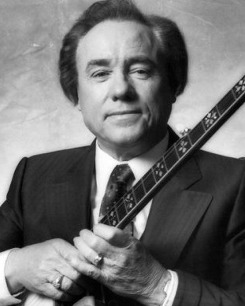 In April, just before leaving on that UK tour, The Byrds entered the studio to continue their collaboration with the Earl Scruggs Revue. A follow-up to their TV appearance from the previous fall, "Nothin' To It" was recorded for Earl Scruggs: His Family And Friends, an LP that also included appearances from Dylan, Doc Watson, and Joan Baez. The song is essentially a Clarence White showcase, with elbow room for Scruggs to ply his three-finger trade. If nothing else — like CW's appearance with Doc Watson at the 1964 Newport Folk Festival — it's great that the two musicians were able to play together, even briefly.
PAUL SIEBEL
Paul Siebel – Pinto Pony
Amazon
Paul Siebel – Pinto Pony
Clarence was too busy to take on much non-Byrds work in '71, but Paul Siebel's "Pinto Pony" is definitely worth mentioning. From Siebel's overlooked Jack-Knife Gypsy LP, it features White and friend/guitar protege, Bob Warford, trading leads on what sound like dueling B-Benders. In fact, Warford owned the 2nd B-Bender ever made, so this might be the first studio effort to feature both guitars. A great bluesy western a la Ian Tyson or Butch Hancock, the song also includes David Grisman on mandolin and Buddy Emmons on pedal steel.
FARTHER ALONG
The Byrds closed out 1971 with the release of Farther Along, easily the most underappreciated album in the band's catalog. This isn't that bold a statement. Over time, the band's discography has been thoroughly analyzed, distilled, and more or less appropriately evaluated. Despite its imperfections, Farther Along has better depth than it's credited with having and is probably the band's most sustained studio effort since Dr. Byrds & Mr. Hyde, released nearly 3 years earlier (February 1969). Would I love to see "America's Great National Pastime," "Antique Sandy," and "So Fine" replaced with actual good songs? Sure. But that only makes Farther a disappointment relative to greatness. Relative to The Byrds catalog heading into 1972, Farther Along is a flawed, but worthy closing statement, with 4 legitimately excellent songs. 3 are below. The other is "Precious Kate," a beautiful earthquake song that sounds like it was written with Jeff Tweedy in mind. That would be '98-'99 Tweedy, not 2010 Tweedy.
Byrds – B.B. Class Road (Guitar Solo)
Amazon
Byrds – B.B. Class Road (Guitar Solo)
One thing Farther Along accomplished that the 3 previous albums did not was remembering to rock. "Tiffany Queen" and "B.B. Class Road" are not great songs, but allowing the band a chance to cut loose with Big Dumb Riff is rarely a bad idea. So, it's not "Like A Rolling Stone." Who cares? Sure, no one needs an album's worth of "B.B. Class Road," but any time you give Clarence White an opportunity to cut loose with 30 seconds of sweet Tele bliss, count yourself lucky.
Byrds – Bristol Steam Convention Blues
Amazon
Byrds – Bristol Steam Convention Blues
More Byrdgrass, a welcome tradition by this point.
Byrds – Bugler
Amazon
Byrds – Bugler
If Farther Along is mildly underrated, "Bugler" is astonishingly so. The country-rock "Old Shep" was the third Byrdsong about a dog (joining "Old Blue" and "Fido") and it features a great vocal by Clarence. White also adds a tasty mandolin overdub and Parsons plays subtly effective pedal steel guitar. If any song demonstrated that White was ready to go solo, this was it. A total heartbreaker. FYI, "Bugler" was written by Larry Murray of Hearts And Flowers, satellite players in LA's late '60s/early '70s folk-country-rock scene.
Byrds – Farther Along
Amazon
Byrds – Farther Along
"Cheer up my brother, live in the sunshine
We'll understand it, all by and by"
Another definitive Clarence moment. Great harmonies, great mandolin part (again Clarence), just solid country gospel down the line. I suppose this is why I defend Farther Along. The 2 best songs are White's and it's a toss-up whether "Bristol Steam" or "Precious Kate" is 3. It's totally CW's album, so by casually dismissing it, folks are missing out on the elevation of his game to solo levels, dammit!
Still, it was probably best that The Byrds imploded following the release of Farther Along. They were a great live band, but if McGuinn didn't give a shit anymore, what was the point for the other Byrds … other than the payday?
Byrds – Farther Along
http://youtu.be/XNVfdx2pj3c&w=560

The Byrds brand would limp along for the next year or so, but 1971 ends the formal recording period. And what are we left with? Perhaps the only first-ballot Hall of Fame band of its generation that failed to produce a single bona fide, beginning-to-end classic album, in 11 tries, no less! EVERY album has dead spots. Also, how has Roger McGuinn escaped criticism for abandoning ship in 1969? Take a look at his official songwriting contributions on each album, beginning with his last strong effort, Dr. Byrds:
DR. BYRDS & MR. HYDE … recorded late 1968
"Old Blue" (traditional, arranged Roger McGuinn)
"Child Of The Universe" (Dave Grusin & Roger McGuinn)
"Drug Store Truck Drivin' Man" (Roger McGuinn & Gram Parsons)
"King Apathy III" (Roger McGuinn)
"Candy" (Roger McGuinn & John York)
"Bad Night At The Whiskey" (Roger McGuinn & Joseph Richards)
BALLAD OF EASY RIDER … rec summer 1969
"Ballad Of Easy Rider" (Roger McGuinn)
UNTITLED … live rec Jan 1970; studio rec summer 1970
"Lover Of The Bayou" (Roger McGuinn & Jacques Levy)#
"Chestnut Mare" (Roger McGuinn & Jacques Levy)#
"All The Things" (Roger McGuinn & Jacques Levy)#
"Just A Season" (Roger McGuinn & Jacques Levy)#
"Hungry Planet" (Skip Battin, Kim Fowley, & Roger McGuinn)
BYRDMANIAX … rec Jan 1971
"Kathleen's Song" (Roger McGuinn & Jacques Levy; leftover from Untitled sessions)#
"I Wanna Grow Up To Be A Politician" (Roger McGuinn & Jacques Levy)#
"I Trust" (Roger McGuinn; rec Oct 1970)
"Pale Blue" (Roger McGuinn & Gene Parsons)
FARTHER ALONG … rec summer 1971
"Tiffany Queen" (Roger McGuinn)
"Antique Sandy" (Roger McGuinn, Skip Battin, Gene Parsons, Clarence White, and Jimmi Seiter)
# indicates songs written with Jacques Levy for the aborted 1969 country-rock opera, Gene Tryp. Take away those songs — since they weren't written with The Byrds in mind, necessarily — and McGuinn averaged one song per album on their final FOUR albums!!! It's fair to say that McGuinn spent more creative energy on Gene Tryp than he did on any of the individual Byrds albums between 1969-73.
So, why isn't he properly skewered for this egregious oversight in band management? White, Battin, and Parsons were a dynamite rhythm section and if you asked them to collectively produce 6-7 songs for an album, 4 of them would be good, guaranteed. All McGuinn had to do was come up with 5-6 songs per year — an album side, essentially — and only 3 of them needed to be first rate. And he didn't come close to that. He could've collaborated with any of the other Byrds, but it rarely happened. "Antique Sandy," "Pale Blue," and "Hungry Planet" are the only Byrds songs that feature either White, Battin, or Parsons as co-writer with McGuinn. And other than "Tiffany Queen," Roger never came close to writing a song that took advantage of Clarence White's facility as a rock guitarist. It's as though he didn't realize White, Battin, and Parsons were in his band. Or, he didn't care. And to either point, I call bullshit.
Before we haul ass to 1972 in the Dodge Challenger, dig this grainy footage of The Byrds in Belgium. Recorded 5 days after the Royal Albert Hall show, it may be flawed visually, but musically, the band brings the heavy wood. An amazing historical artifact. Ladies and gentlemen: THE BYRDS!!!
BYRDS @ FOREST NATIONAL HALL, BELGIUM, MAY 18, 1971
http://youtu.be/SKxx1kDdAcY&w=560
Lover Of The Bayou
You Ain't Goin' Nowhere

http://youtu.be/diX0SkKH3H0&w=560
Truckstop Girl (Clarence: lead vocal)
Baby, What You Want Me To Do
Soldier's Joy

http://youtu.be/NeOROEmbsK4&w=560
Pretty Boy Floyd
Take A Whiff (Clarence: lead vocal)

http://youtu.be/jlAqeC16P64&w=560
Jesus Is Just Alright
Mr. Spaceman