Creedence Clearwater Revival
Royal Albert Hall
London, England
April 14, 1970
John Fogerty: vocals, guitar
Tom Fogerty: rhythm guitar
Stu Cook: bass
Doug Clifford: drums
Here's a ferocious live document of Creedence at their live apex. This was a few months before the release of Cosmo's Factory, so the setlist was composed of songs from their previous three albums, ALL of which were released in 1969: Bayou Country, Green River, and Willy and the Poor Boys. The lone 1970 number is "Travelin' Band," which came out in January as a double A-sided single with "Who'll Stop the Rain." If you have a better way of spending 50 minutes that doesn't involve a midget hooker and/or barbecue, I'd like to hear it.
Below are the 12 songs in the set, their starting times, and various quotes from John Fogerty through the years. Get your choogle on, fools.
1. Born On The Bayou (:15)
"I would sit there, kind of look at the blank wall in my little apartment, and I just kind of pictured this story. Now around this same time, because of 'Suzie Q' getting played on the underground radio station, we played the Avalon Ballroom, in San Francisco. We were onstage for a two-minute sound check. I started doing this thing with the guitar, and I started screaming into the microphone what would later become a refined melody but at that moment was just noise, and I had Doug and Stu just play along. I just wanted to hear this energy thing. Anyway, that mythical thing that I was dreaming up at night and that burst of energy on the stage at the Avalon came together. 'Born on the Bayou' is almost the Gordian knot or the key to what happened later. As I was writing it, it occurred to me that there was more power than just this one song. If there was a way to tie it all together on one album, kind of cross-fertilize, cross-relate the songs, you would have a much more interesting and maybe more powerful image. So that's what happened. 'Born on the Bayou' sort of relates to 'Proud Mary.' It certainly relates to 'Keep on Chooglin' and 'Graveyard Train.'"
–John Fogerty to Michael Goldberg, Rolling Stone, February 4, 1993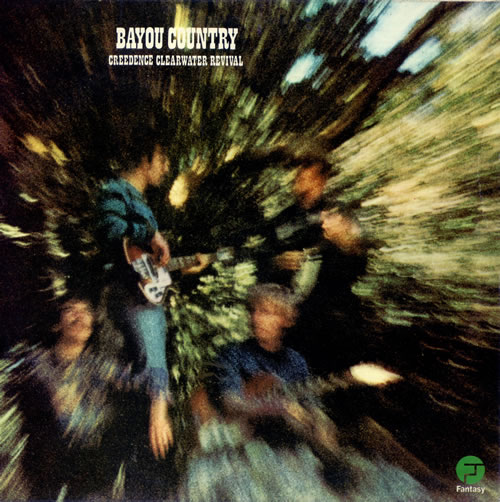 2. Green River (5:22)
"'Green River' is really about this place where I used to go as a kid on Putah Creek, near Winters, California. I went there with my family every year until I was ten. Lots of happy memories. I learned how to swim there. There was a rope hanging from the tree. Certainly dragonflies, bullfrogs. There was a little cabin we would stay in owned by a descendant of Buffalo Bill Cody. That's the reference in the song to Cody Jr. The actual specific reference, "Green River," I got from a soda pop-syrup label. You used to be able to go into a soda fountain, and they had these bottles of flavored syrup. My flavor was called Green River. It was green, lime flavored, and they would empty some out over some ice and pour some of that soda water on it, and you had yourself a Green River."
–John Fogerty to Michael Goldberg, Rolling Stone, February 4, 1993
3. Tombstone Shadow (8:24)
"I used to have a criteria for what makes a great record. First was the title, you need a great title, and the second was the sound–so you could hold up a piece of the tape anywhere and it would have would have that sound. And then the song; there has to be a song. And the fourth and toughest thing is a great guitar lick, and if you get that you have a great record. A lot of records have a good title, a nice sound and a good song to them but are missing that incredible guitar. And when you have all four it is so rare and so memorable. Like my kids, who are 13 and 14, still play "Back in Black." Their heads snapped just like mine did when they heard AC/DC and that a great lick. A great lick is a great lick." [Fogerty then proceeds to sound out the "Back In Black" opening guitar riff.]
–John Fogerty to Britt Robson, City Pages, February 23, 2006
4. Travelin' Band (12:12)
"I'm aware of (Sonic Youth), but I didn't know about that album (Bad Moon Rising). Are they from Seattle? I've never heard them, but I really applaud young bands, like those from Seattle, who find something a little different, but it's full of that garage rock & roll thing, and it's just played to the hilt. That's a musical ingredient I have always valued. Sometimes I lose sight of it, but I'm happy to say I have a strong grip on it now. It's what has always made great rock & roll."
–John Fogerty to Michael Goldberg, Rolling Stone, February 4, 1993
5. Fortunate Son (15:16)
"It was so obvious during (Richard) Nixon's time that the children of privilege — the senator's son, the president's son, if he had one, or at least the president's daughter's boyfriend — they weren't going to war. They were going to have a cushy job somewhere. Whereas the poor, lower class grunt was going to be the guy in field getting shot. It made me so angry. I'm not the first guy to notice it, but it made me so angry that the rich old men make the war, and the poor young men have to fight it."
–John Fogerty to Joshua Klein, Pitchfork, November 27, 2007
6. Commotion (17:33)
"I learned all this stuff by hearing James Burton or Reggie Young playing on soul records, hearing all these great guitar licks and that approach to guitar music. At some point I was able to do it pretty good and create music for my band. If we were all in a room, you sometimes feel like you actually are walking around with James Burton and Reggie Young and Duane Eddy, and we're all on this cosmic, psychic journey together in the same room. It's like we can all hear some song start, and we all nod our heads with a smile and an affirmation. This never, ever happened, of course, but I think all of us that do this would say that we've all felt that connection to each other. It's almost a communal feeling. You validate each other."
–John Fogerty to Joshua Klein, Pitchfork, November 27, 2007
7. Midnight Special (20:39)
"I was very influenced by country music, whereas I don't think anybody else in the band had quite that same attraction. My brother Tom had it to some degree — he liked Buck Owens, but I don't think he was aware of Merle Haggard much at all. And earlier in rock 'n' roll, so many guys were crossover people, like Johnny Cash or Jerry Lee Lewis or even Elvis Presley — at first his nickname was the Hillbilly Cat. I didn't know that until years later or I probably would have sworn off of him! There were certainly large doses of country in Elvis."
–John Fogerty to Jeffrey Pepper Rodgers, Acoustic Guitar Magazine, November 14, 2009
8. Bad Moon Rising (24:14)
"I got the imagery from an old movie called The Devil and Daniel Webster. Basically, Daniel Webster makes a deal with Mr. Scratch, the devil. It was supposed to be apocryphal. At one point in the movie, there was a huge hurricane. Everybody's crops and houses are destroyed. Boom. Right next door is the guy's field who made the deal with the devil, and his corn is still straight up, six feet. That image was in my mind. I went, 'Holy mackerel!'
My song wasn't about Mr. Scratch, and it wasn't about the deal. It was about the apocalypse that was going to be visited upon us. It wasn't until the band was learning the song that I realized the dichotomy. Here you got this song with all these hurricanes and blowing and raging ruin and all that, but it's [snaps fingers] 'I see a bad moon rising.' It's a happy-sounding tune, right? It didn't bother me at the time."
–John Fogerty to Michael Goldberg, Rolling Stone, February 4, 1993
9. Proud Mary (26:32)
"In the middle of July 1968, I got my honorable discharge from the United States Army after much consternation. I was overjoyed. This envelope containing this little thing that's like a diploma had been sitting on the stairs of my apartment building for a couple of days. It said, 'Official Business' or something. Well, I didn't bother to look close at it. Finally, one day I was coming into my apartment, and I look on the stairs, and, 'Hey, that's got my name on it!' Well, son of a bitch, I opened it up, and I'm discharged from the army. Holy Hallelujah! I actually went out on the little apartment-building lawn and did a couple of cartwheels. At that one moment it was like 'Wow, all the troubles of the world have been lifted off my shoulders!'
If it didn't happen within five minutes, certainly within a week and a half I had written 'Proud Mary.' That one event that led to doing the cartwheels, that's where 'Left a good job in the city' comes from. I just felt real good. Although I didn't recall it at the time when I was doing 'Rollin' on the river,' there is an old Will Rogers movie about these old paddle wheelers (Steamboat Round the Bend), and I believe at one point they actually sing, "Rolling on the river." I know that buried deep inside me are all these little bits and pieces of Americana. It's deep in my heart, deep in my soul. As I learned in English 101, write about what you know about."
–John Fogerty to Michael Goldberg, Rolling Stone, February 4, 1993
10. The Night Time is the Right Time (30:34)
"I was very self-conscious about my voice. What happened was that me and some other guys went up to Portland, Oregon, of all places, during the summer of 1964. We found a drummer and got a two-week engagement at a club called the Town Mart. At that point, this guy named Mike Burns was the singer. Well, one day I said, "I'm going to sing." And since I was out of my hometown, away from my parents and any of my friends, I kind of just told myself to go ahead and try it, don't be shy. And I had taken a reel-to-reel tape recorder up there. I would record whole sets. Then I'd stay up until sunrise listening to myself And I heard myself improve. I'd try something like a scream or a hard-edged 'Well!' I'd hear myself try to do it on the tape, and the next night I'd go back and try something else. As I used to say, I developed a scream in Portland."
–John Fogerty to Michael Goldberg, Rolling Stone, February 4, 1993
11. Good Golly Miss Molly (34:15)
Daniel Levitin: In your flat-out rock and roll voice is there someone you're hearing in your head besides yourself?
John Fogerty: Well I'd certainly have to have a tip of the hat to Little Richard. I'd say it's sort of a composite guy, because obviously I love Wilson Pickett, and there are a few guys who have that sort of high, edgy thing,Little Richard being the best and the most famous. Wilson even screamed in tune. My voice came out a certain way and I've learned to be that way. But it is an affectation – I mean, it's something I had to work on. That's the part that people don't understand. It's just like guitar playing. You decide in your mind, I want to get good, I want to play. Well it takes work, you practice.
–Fogerty to Levitin, Audio Magazine (PDF), January 1998
12. Keep On Chooglin' (37:42)
"(In 2009), I was receiving an (Americana Music Association) award and there were a lot of artists there like Emmylou Harris and Buddy Miller who had been creating music for quite some time and recently they've been collecting it together and calling it Americana. It seems to fit, but before it had a capital 'A,' like that ceremony–I mean Chuck Berry was certainly americana, although it comes from a very different place than Emmylou Harris. I made a little speech and basically I said that I remember watching Elvis Presley and thought it was really weird, and then I saw The Beatles and I felt really weird watching that, and I would I would watch country and western and I would feel weird watching that, too. I said, "I felt weird until I came here tonight and realized that there was a whole lot of people like me who liked all of that stuff, and we don't categorize it, we just call it great music."
–John Fogerty to Andrew Watt, Hey Hey My My, March 25, 2012